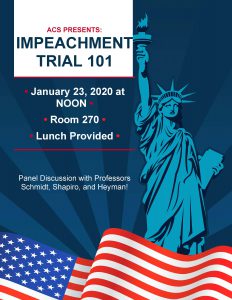 On January 23, our American Constitution Society hosted a panel of three Chicago-Kent Constitutional Law professors to provide context and history about the current impeachment trial.
Professor Schmidt began the event with video clips of the opening statements from senators that quoted from the framers of the constitution before opening it up for more discussion and student questions.
Thanks to our student leaders for providing notes from the discussion and livetweeting the event, this recap is edited from their contributions.