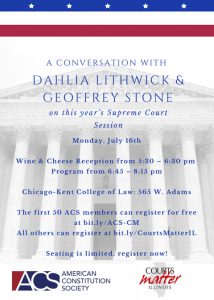 On July 16, the American Constitution Society and Courts Matter Illinois co-hosted an event at Chicago-Kent featuring a discussion with Dahlia Lithwick of Slate.com and Professor Geoffrey Stone of the University of Chicago on recent Supreme Court rulings.
The event began with opening statements to offer context on the significance of the Supreme Court and the political trends they've seen in the current court.
The event continued with discussion of six key cases, followed by an open question and answer section that included discussion of SCOTUS nominee Brett Kavanaugh and the implications of recent cases on other free speech and immigration issues.
You can find the full video of the event below, along with an outline of the cases they discussed and quotes from the live Twitter coverage of the event.
Continue reading "Event Recap – Supreme Court 2018: A Conversation with Dahlia Lithwick and Geoffrey Stone"