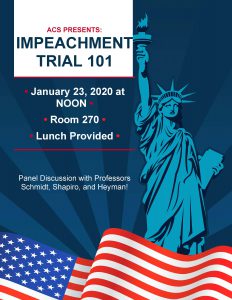 On January 23, our American Constitution Society hosted a panel of three Chicago-Kent Constitutional Law professors to provide context and history about the current impeachment trial.
Professor Schmidt began the event with video clips of the opening statements from senators that quoted from the framers of the constitution before opening it up for more discussion and student questions.
Thanks to our student leaders for providing notes from the discussion and livetweeting the event, this recap is edited from their contributions.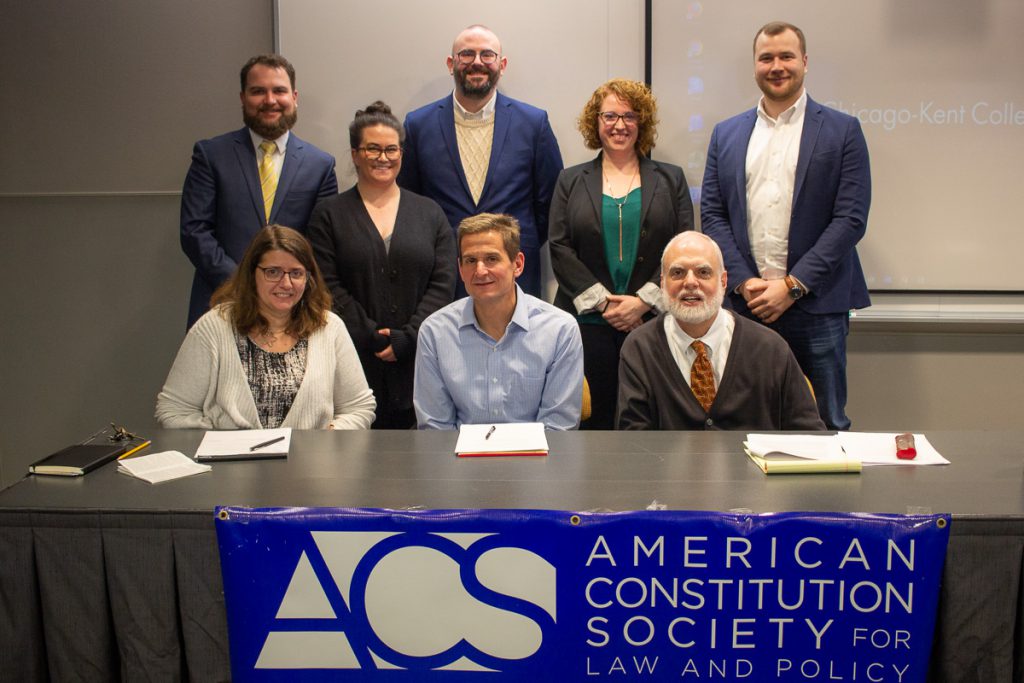 Historical Context
The framers of the constitution argued for and against including an impeachment clause. The argument against including impeachment: the next election can remove the president. The argument for impeachment said yes, elections should be the default. But what if a president's behavior affects the election itself?
Founders were well-versed in history of British efforts to establish a stable constitutional order, that's why the impeachment clause is included in our constitution. 
Prof. Heyman: The Framers were well aware of how fragile Constitutional rule could be #ACS #ImpeachmentTrial101

— ACS Chicago-Kent (@ACSChicagoKent) January 23, 2020
originalism
All three faculty members acknowledged they don't usually depend on an originalist frame to interpret the constitution. So why are they looking more through originalist lens to interpret and guide in this case?
Professor Shapiro said we haven't had many impeachments; we don't have a lot of practice. She also noted not being an originalist doesn't mean "anything goes." It's important to understand the underpinnings of the text.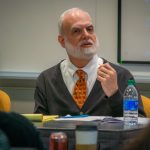 Professor Heyman compared a "realist" perspective vs. an "idealist" perspective.  The discussions around this (even from the Federalist papers) could easily be read as speaking directly to today's audiences, and gives valuable insight. He noted that it's easy to become cynical, though, so looking back to the founders re-calibrates the discourse to being more "hallowed/sacred" as an idealist.
Professor Schmidt agreed, saying when history has a very clear answer to the questions of today, we should allow that to play a powerful role.
polarization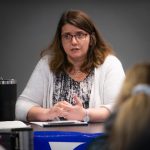 Professor Shapiro noted that during the Clinton impeachment, due to party line splitting, senate came to agreement. They came together to decide the president wouldn't be removed but would be censured.
She said in our current polarized political climate we are unlikely to see that kind of coming together or compromise in this trial. It is Highly unlikely President Trump will be removed.
Audience Questions
Our Constitutional Law professors wanted to leave time for audience questions and answers, to see what concerns students brought to the event.
statutory crimes
Question: Why not include statutory crime? Was it a strategic error to not include that?
Response: One reason why statutory crimes aren't required is there was no U.S. Code when the clause was drafted. But it also might not have occurred to them to address violations that can literally only be carried out by the president.
Why not include a statutory crime in the articles of impeachment? @cwschmidt1 Although criminal charges have been included in previous Presidential impeachments, there are many other impeachments that have not included crimes. #ACS #ImpeachmentTrial101

— ACS Chicago-Kent (@ACSChicagoKent) January 23, 2020
Prof. Heyman: there were criminal statutes that the House could have invoked, including bribery; the argument on the other side is that it is not clear that the particular elements of the bribery statute are present here. #ACS #ImpeachmentTrial101

— ACS Chicago-Kent (@ACSChicagoKent) January 23, 2020
Maybe the approach was to "unlawyer" it a bit and instead say "this is a simple matter of justice."
Statutory offenses of refusing to comply with federal subpoena or coercing others to not comply with federal subpoena is clearly a statutory violation that leads to felony obstruction of justice
impartial jurors
A student noted that several senators stated their plans before the impeachment trial began. Should Senators be held accountable for being "impartial jurors"?
What do you think should be the role of the Senators here? More as a jury or as political actors? @cshaplaw It is not appropriate to say beforehand how they should vote. They should go in with an open mind but constituent views are not irrelevant. #ACS #ImpeachmentTrial101

— ACS Chicago-Kent (@ACSChicagoKent) January 23, 2020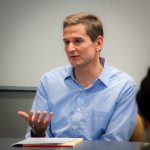 Professor Schmidt said this is not a policy issue, this is a constitutional duty of the Senate. They're not senators in their traditional senator roles. It's a hybrid.
Prof. Heyman: There is a legal and constitutional role on the one hand and then there is also the political dimension on the other. Hamilton's POLITICAL offenses are offenses against the community and our constitutional order. #ACS #ImpeachmentTrial101

— ACS Chicago-Kent (@ACSChicagoKent) January 23, 2020
Is there a way for the impeachment trial to bring the Senate together as a more cohesive institution? @cshaplaw It doesn't make political sense for the leadership to do so. @cwschmidt1 the end of this is going to be just as acrimonious as it began. #ACS #ImpeachmentTrial101

— ACS Chicago-Kent (@ACSChicagoKent) January 23, 2020
Role of the Chief Justice
Question: Should Chief Justice have a more active role in presiding over trial?
Should the Chief Justice have a more active role in the impeachment trial? @cshaplaw The Chief Justice will not want to play a more active role, he would like to come out looking as neutral as possible. #ACS #ImpeachmentTrial101

— ACS Chicago-Kent (@ACSChicagoKent) January 23, 2020
However, in the absence of clear rules governing presidential impeachment trials, there are suggestions that he should play a more active role. Especially when it comes to breaking a tie – should he be able to do that? Professor Shapiro thinks Roberts would say no.
Roberts has no incentives to play a more active role. There is precedent for both, in the Andrew Johnson trial , the  chief justice played a much more active role. In the Clinton trial the chief justice played very passive role. 
Reforming the Impeachment Process
Question: Given how publicly the senators in charge have discussed how this is going to end (non-removal), is the impeachment process is in need of reform?
Response: That's a good question, but it's hard to imagine what an alternative would look like. There were early ideas of having impeachment trial in front of SCOTUS rather than the senate.
Is there a systemic problem removing presidents from office if we know that the President will be acquitted ahead of time? Prof Heyman: Framers didn't want to turn our system into a parliamentary political system and their impeachment rules reflect that. #ACS #ImpeachmentTrial101

— ACS Chicago-Kent (@ACSChicagoKent) January 23, 2020
They noted it there may have been an error in framing this impeachment so narrowly on the Ukraine scandal, but this process may help carve out more specifically how to interpret what "high crimes and misdemeanors" really means for the future.
Event Photos