The Chronicle of Higher Education is one of the best sources for the latest higher education news and information, as well as academic career information. We offer online access to past and current issues, through the IIT main campus library.
Personalized Email News
You can read Chronicle articles from anywhere on campus.  If you'd like, you can also sign up for the Chronicle's email newsletters.  These include:
The Academy Today – morning headlines
Afternoon Update – the latest headlines delivered each afternoon
Weekly Briefing – a summary of each week's news, delivered on Fridays
Breaking News Extra – alerts
Re:Learning – A weekly newsletter about the latest educational information
Graduate Students-  a weekly newsletter with news and advice for graduate students
Teaching – insights and new classroom techniques
To sign up, scroll to the bottom of any Chronicle page and click "Get Newsletters":


Check the newsletters you'd like to receive:


Add your information, then click "Sign Up":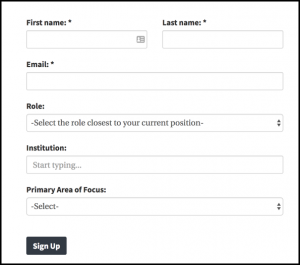 If you are on campus, you can read articles by clicking the links in your email newsletters.
Off-campus Access
If you are off campus, you may find that some articles require a login. To access the Chronicle from off campus, go to the Library website, then go to our Databases page.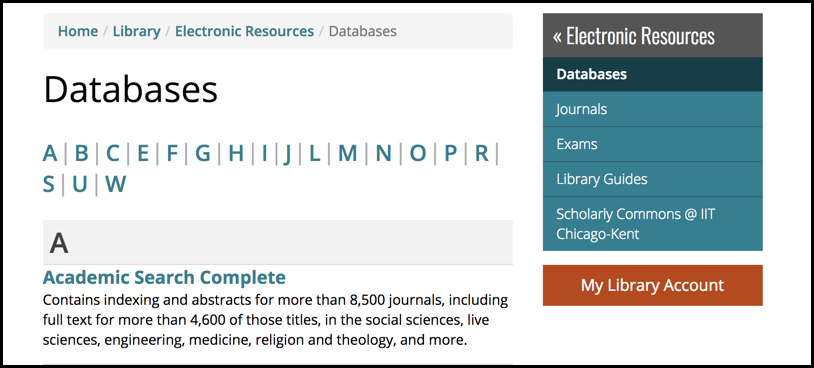 Click "Chronicle of Higher Education":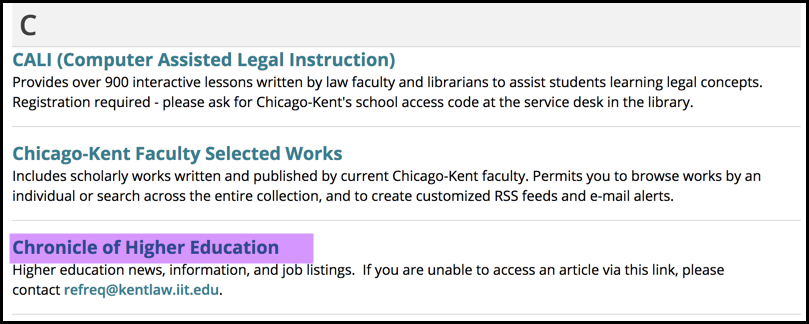 You'll be asked to sign in – use the login you use for your kentlaw email or myIIT.  You can then access articles by clicking the links on the Chronicle web page (you will not be able to use the links in your newsletter).
If you have trouble accessing anything, contact our reference desk at refreq@kentlaw.iit.edu.