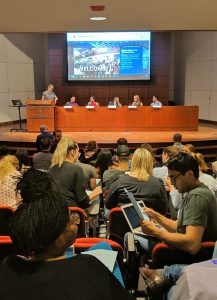 On Wednesday, August 22nd, during our 2018 Orientation, a panel of current students shared their experiences and career advice with the incoming students.
Afterwards, several faculty shared information about the variety of practice-ready skills programs at Chicago-Kent College of Law.
Student Panelists:
Student & Professional Organizations: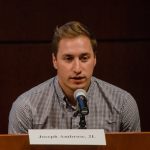 Joseph Ambrose said coming to a new city with no connections to the legal field, he needed help to get where he wants to go. With so many local professional bar associations and school organizations, he started by attending their events, introducing himself, and listening to the attorneys and students there. This has helped him find mentors and learn from local professionals.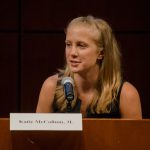 Katie McCollum agreed, encouraging students to go to student organization events outside of your interest too. She said if you go to Chicago Bar Association events and meet people, be sure to follow up with the people that you do hit it off with.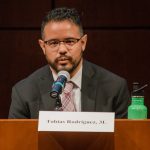 Tobias Rodriguez said talking to older students about his goals for public interest work helped him make connections for the jobs he has had so far. When he meets someone outside the school, he recommends finding a way to follow up on a regular basis to send short updates on what you are doing and connect it to their interests or experiences. Let alumni know about classes you are taking and ask about professors, for example.
Networking Advice:
Dawn Peacock recommended the book "How to Talk to Anyone" to improve your networking skills. she said even if you don't love being in big events, you will be expected to get out there as part of your profession. She started early, meeting the 2Ls and 3Ls in her classes and joining local sports teams, since she was also here from out of state.
Tobias Rodriguez said since he's less comfortable with large group networking event, he found ways to connect one on one and build relationships. Starting through his mentor, he would mention an interest in meeting people who knew more about specific topics. That made it easier to find other people to connect with and has also been a great way to to find out about scholarships at local bar associations.
Tobias also encouraged anyone who doesn't like big events to take advantage of the alumni connections events too, where you can meet in more individual settings for dinner or coffee or practice interviews.
Gabriel Lara said he ended up being busy meeting people for lunches most of the summer based on the networking he'd done over the school year.
He emphasized some practical tips: never have too much to drink (2 drinks maxiumum is a common rule) and treat every event as if it could be a job interview since you don't know what people will remember about you. Also, get a networking buddy! It's always good to tackle these events with a friend.
Using the Career Services Office
Gabriel Lara also encouraged students to stop by the career services office to find the wealth of handouts and other materials they have to help with networking and other professional career skills. He said doing practice interviews and getting practical tips from his career counselor was very helpful, as was using Symplicity to look up jobs.
Dawn Peacock said she regretted that she didn't utilize Career Services her 1L year, said it was really helpful to build a relationship with your counselor to let them know what you are looking for. Tobias Rodriguez agreed, and said he was sure to sign up for an interview with his advisor as soon as he could in October his 1L year.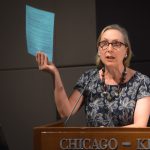 Several students emphasized the value of relationships with the career advisors. Tobias said being from out of state, he's relied on his advisor's personal networks to make connections. Katie McCollum said it's been easier for her to get stronger personal recommendations and help with interview prep strategies.
Practice-Ready Skills Programs
Clinics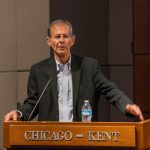 Professor Richard Gonzalez described the benefits of the CK-Law Group, which is one of the biggest clinics in the country and offers a wide variety of specialized options.
He also wanted students to know they can sign up as early as the spring semester of their 1L year now.
Externships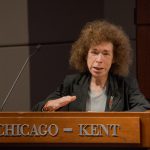 Professor Vivian Gross described the wide variety of externship programs available for upper level students at Chicago-Kent.
Legal externships usually take place during the school year while private externships are normally over the summer. She also touted the value of the judicial externships, which offer behind-the-scenes view of decision making that 90% of lawyers never get to experience.
Certificates
Professor Jenifer Robbins described the 12 certificate programs at Chicago-Kent that can help guide student through specific career paths. She also spent more time describing the award-winning Praxis program, which prepares students for a more experiential course of study and can be done in conjunction with other certificates.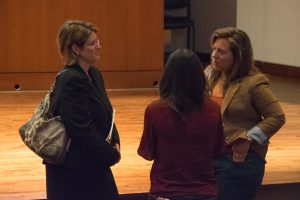 Law Lab & A2J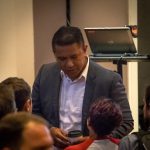 Alex Rabanal serves in multiple capacities at Chicago-Kent, as Associate Director of The Law Lab and Assistant Director of the Public Interest Certificate Program.
Why "laboratory"? Their goal is to bring the scientific process to the practice of law to make it more efficient and effective. He encouraged students who were interested in learning more about the Law Lab to visit their website to sign up for email reminders to learn about courses (like their blockchain course on cryptocurrency and the law) or conferences (like the finlegaltech conference this fall). They also offer a certificate program in Legal Innovation +Technology.
His role with the Center for Access to Justice & Technology  also involves supervising the Self-Help Web Center, which will have a training on September 11 for new volunteers. Students can also learn more by stopping by their table at the Student Organization Fair.
Enjoyed speaking to a great group of 1Ls today during orientation. I'm sure they'll find a lot of excellent opportunities to get plugged in here at @ChicagoKentLaw.

— Alex Rabanal (@afrabanal) August 22, 2018