On Tuesday, August 21, a panel of Chicago-Kent alumni shared their experiences as law students and their career advice with the newest entering class of Chicago-Kent students at our 2018 Orientation.
Panelists:
Advice for Students:
Dion Beatty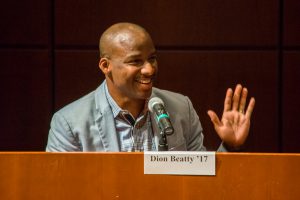 The law is always changing, so look for classes that allow you to be the expert in a specific topic, even as a newcomer. For example, taking the Cannabis Law class let him be the expert at his firm for employment issues regarding drug testing and drug policies for employers.
Be careful about advice you take. Know what works for you. If you are undecided, it's good to be open. If you have mapped out a career path carefully, learn what you need to in order to move in that direction. At Chicago-Kent, certificate programs and externships can offer experiences to help you learn what it is like in specific legal fields.
Scott Curran: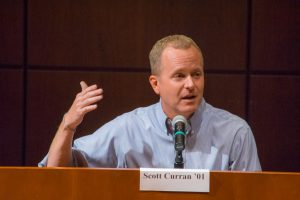 The more successful you become, the more challenging it is to manage your time. But if you do what you love, you'll welcome the challenge!
He also offered three non-traditional pieces of advice:
Be mindful and aware.
Be insatiably curious – find ways to do things that fulfill you.
Be incredibly authentic. It will help guide you toward a career that is true to who you are; that also goes back to being mindful.
Melody Gaal: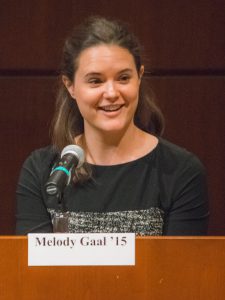 Don't be afraid to talk to people! Use the alumni network to learn more about the legal field. Get coffee or lunch regularly—before you get to the point where you are meeting people in interviews.
That practice is especially important you don't have people in your family or social circle who can guide you through the legal field.
Work hard, but also take breaks and do things you love to stay true to yourself, what you care about, and the relationships that will support you.
Peggy Wojkowski: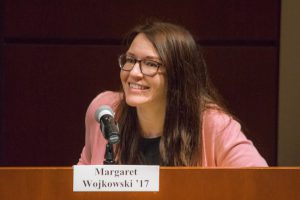 Even if you are sure you know what you want to do, try courses that expose you to new paths.
Do things that aren't easy. Get experience, even negative ones.
It isn't fun to struggle, but you can learn how well you handle difficult situations and be prepared when you face them as a professional.
Final Advice:
Scott: Have fun, good luck!
Melody: Congratulations, enjoy it as you run your race and do your thing!
Peggy: Make sure you are collegial; this school is built on that. You will find more experienced students who help you, and alumni, too. Be ready to do the same for your peers and those who follow you, too!
Dion: I had a plan, but I didn't know how that would translate. You will look at people who may seem like they are more successful or have more opportunities, but keep your eyes on the prize and focus on what will work for you.

Upcoming Alumni Events: