Brittany Kaplan came to Chicago-Kent after a career in publishing, looking forward to building on that expertise with her training in our Intellectual Property program. Learn more about her favorite professors and the ways she challenged herself and proved her skills in advocacy and her leadership in our IP journal.
Student Profile
Class year: 2019
Division: full-time day
Hometown: Riverwoods, IL
Academic Background: MS in Journalism, Northwestern University, BA in Journalism Michigan State University
Social media: LinkedIn
What drew you to the legal profession and law school?
Before attending law school, I was a magazine editor for ten years and had always been interested in pursuing a legal education. It wasn't until noticing some legal issues in the publishing industry (such as potential copyright infringement of photographers' work) that I thought about linking my current career with a future legal profession.
What stood out about Chicago-Kent?
Chicago-Kent has an outstanding intellectual property program. Since I was interested in soft intellectual property, Chicago-Kent seemed like the natural choice.
What solidified that decision was attending a mock trademarks class with Professor Piatt during an accepted students weekend. Professor Piatt was engaging, smart, energetic, and challenging. I loved the class and knew my law school search was complete. 
At Chicago-Kent:
Do you have a favorite professor or class that has confirmed or changed your goals in coming to Chicago-Kent? 
Professor Dinwoodie is one of my favorite professors at Chicago-Kent. We so are incredibly lucky to have him! I highly recommend taking one of his classes. Going into law school, I knew that I was interested in trademarks and copyrights. Professor Dinwoodie helped confirm that interest. His trademarks class was dynamic, fast-paced, fascinating, and so much fun.
Are you focusing your studies on a particular area of law?
I'm mainly focusing my studies on trademarks and copyrights. It's the area of law I have been so passionate about pursuing for years, which also bridges the gap between my former media career. This allows me to apply old experiences to new issues and challenges. Soft IP is a fascinating area of law. It's constantly changing, and the opportunities to make an impact are endless.
What programs or opportunities surprised you at Chicago-Kent?
I've always been nervous about public speaking and was terrified of our 1L oral arguments. Participating in Chicago-Kent's IP Moot Court program was the most surprising and incredible experience of my law school career.
The coach Ashly Boesche along with Eliot Gusdorf and Kenny Matuszewski, my teammate Evan Kline-Wedeen, Professor Piatt and Professor Stresseman, all helped me find confidence and poise during oral arguments.
The program also helped me become a better writer. Evan and I worked diligently and cared deeply about representing Chicago-Kent to the best of our abilities. We became the Saul Lefkowitz Moot Court 2018 National Champions! It was an honor to bring this title home to Chicago-Kent.
Student Leadership
Chicago-Kent Journal of Intellectual Property (CKJIP)
Managing Editor 2018-2019
Associate Editor 2017-2018
Chicago-Kent IP Moot Court, Team Member 2017-2018
Best Team / First Place Overall Award; Best Oral Argument Award; and Second Place Brief Award – Saul Lefkowitz Moot Court National Competition
Second Place Overall Award; Best Brief Award – Saul Lefkowitz Moot Court Midwest Regional Competition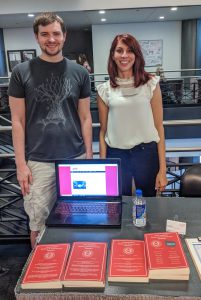 What made you want to get involved in the IP Journal?
Although I've always wanted to be a lawyer, I still love magazines and the publishing industry. I felt that my knowledge and prior experiences could contribute to the Journal's future success.
What contribution do you hope to make as a student leader?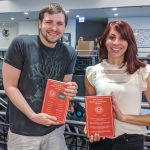 I hope to contribute my understanding of publishing's management and organizational structures and  innovative ideas for how to successfully move forward in the future.
Beyond Law School
What are some skills or interests people might not guess about you?
I participated in Taekwondo starting at nine years old and earned my deputy black belt by the time I was eleven. I qualified  for the Junior Olympics through a series of competitions and placed fourth overall. Also, I recently picked up boxing and am enjoying the learning process.
What do you do to relax outside of school?
I love to run and attend Orangetheory fitness classes. It has become a great way to relieve the pressures of law school.
What is your favorite way to enjoy Chicago?
I love walking the streets of Chicago because we have such a rich history and incredible architecture story. My love of Chicago's architecture likely comes from working at a design magazine for years. 
Fun fact: the Prohibition-era Carbide and Carbon building (located on Michigan Avenue) features a gold-leaf roof to resemble a Champagne bottle. Go check it out!
https://www.instagram.com/p/BgY2yNegq-b/