Have you ever considered attending a local legal tech conference? You don't have to be an "early adopter," eager to try out the latest gadgets and apps, to find these conferences valuable.
Learning about new tools being used in the field and the issues new technologies are  bringing to legal practice can give you a leg up as you start your job search. Plus, local conferences are great networking opportunities too.
In Chicago: ABA Tech Show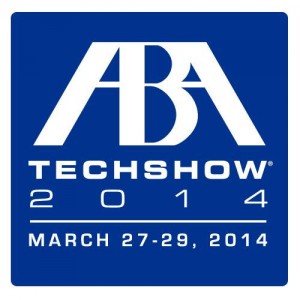 Every year our Library Tech Group attends the ABA Tech Show at the Hilton Chicago in the spring (March 27-29 this year) to check out the latest developments in legal technology available for practicing lawyers.The three day conference includes 7 concurrent tracks covering topics from ediscovery to social media, ipads to practice management.
Student registration for the conference itself costs $100 for the full conference (a 3 day event) or you can sign in for an expo pass only to attend the exhibit hall for free. The exhibit hall is packed with vendors displaying new apps used in the courtroom, research tools, virtual office options, and a wide variety of other technologies and services.
If you're interested in attending the ABA Tech Show in any form, be sure to check out their "First Time Experience Guide" with lots of tips about all the activities going on around the conference and more ways you can check out their activities and tune into the online conversation.
See slides from our 15 minute "tech tip" session on this topic for Students here:
Conferences available online
There are multiple legal conferences around the US each year and many offer online access to the conference materials through their websites or YouTube channels:

LegalTech is offered in New York and the west coast, but this year you can attend many sessions online through Virtual LegalTech, available "On Demand" at any time as webinar sessions where you can view slides, listen to the presentations, and download handouts. Here are just a few of the available session titles:
Ethics for Lawyers in a World of the Internet, Social Media, & e-Evidence
Law Firm Security: Minding the Gaps
The Mobile Law Practice: Finding a Middle Ground between Security and Accessibility

Last year, CALI's annual Conference for Law School Computing was hosted here at Chicago-Kent. Unlike the ABA Tech Show, the CALI conference is aimed at law schools, not practicing attorneys. Many sessions cover teaching ideas, school infrastructure, and innovative ways to use technology to assist in the goals of legal education.
This year the CALI conference is scheduled for June 19-21 and will be hosted by Harvard Law School. But you can still view all of last year's presentations on their YouTube channel (be sure to subscribe to see new videos from this year's conference too when they're posted). Here are a few examples you may enjoy:
Chicago-Kent Library staff also presented several sessions last year: