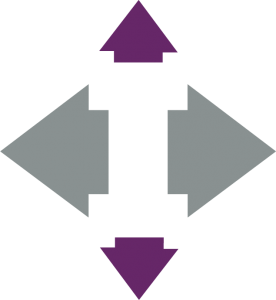 Did you know that you have borrowing rights at over 80 academic library systems all across IL? When you make a request online, they deliver directly to our library!
Or you can stop by an I-Share library while you're out and about with your school ID and check out materials in person  (many Chicago-area universities are part of the program).
What can you borrow?
The items available depend on the policies of each library, but there are a huge variety of libraries in this system. Many of these libraries offer a wide variety of materials from textbooks to popular fiction to cookbooks to movies.
How long can you keep them?
Each item loan period is 4 weeks. Students can renew items 3 times (unless it is recalled by the library for one of their patrons) and staff and faculty can renew items 6 times.
Getting Started
You will need a personal I-Share account to request or renew books online. If you've never used I-Share before, you can sign up for an online account here. Use the number on your school ID and be sure to select "Illinois Institute of Technology" as your I-Share associated library. Going to your preferences and setting your default pick-up location to DTC SERVICE DESK is also a good idea.
Are you a student? If you're registered for the current semester, you should be all set. Keep in mind if you're gone over the summer you will still be responsible for picking up and returning any items you borrow through I-Share.
Are you a faculty or staff member? Check with Eric Neagle, our Access Services Librarian, to confirm that your account is in the system and has the number on your school ID. His email is eneagle@kentlaw.iit.edu.
Finding Books:
You can search right here, or go to the library website anytime and select "I-Share Libraries" from the search box options.
Making Requests
When you find a book you'd like to borrow, click on the title and look for the "Request form an I-Share Library" button:

Now you'll be able to login with your I-Share account, and if the book is available you can submit your request by clicking on "Request 1st Available."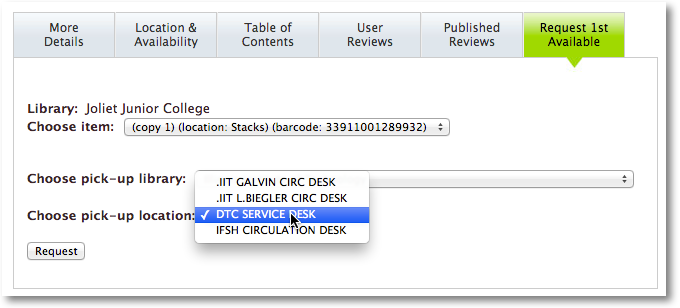 NOTE: Be sure to specify your pick-up location as DTC SERVICE DESK, not the default IIT GALVIN CIRC DESK (which is at the main campus). You can also reset this as your default location from your account preferences.
Picking Up Items:
You'll receive an email from Eric Neagle with the subject line "Item Available Notice" when  your book arrives and is available at the 9th floor service desk. The book will be held there for 3 weeks and returned if you do not pick it up. Stop with your school ID and our friendly Circulation staff will process the book for you!
Renewing Items:
Click on the red "My Library Account" button from the library website anytime to check your account status and renew books.
Returning Items:
Drop off your books at the 9th floor library service desk and we'll send them back to the correct library for you. No hassle!