By Victoria Lozano, JD Candidate
On September 20, 2018, Chicago-Kent's Intellectual Property Law Society invited Chicago-Kent IP professors Greg Reilly and Graeme Dinwoodie to provide inspirational and important information for those who are interested in practicing intellectual property law.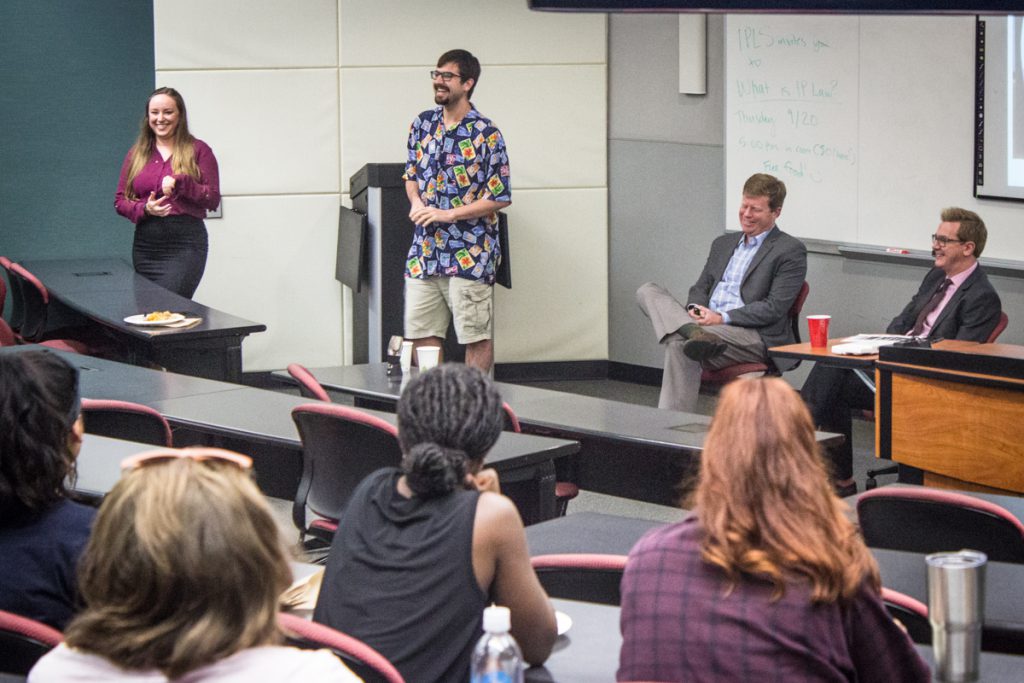 Avenues of IP Law
The professors presented an affirming perspective for non-technical students to keep their eyes on the IP prize. Each professor presented on a total of six different avenues of IP law, making sure to differentiate where lawyers with technical and non-technical backgrounds have opportunities for growth:
utility patent: protects the function of the product
design patent: protects outer appearance of the product
trade secrets: protection for internal company data
copyright: protection for original content, a very low bar for creativity
trademark: protection for brands and logos
trade dress: protection for packaging
Technical Background Required?
Very few people practice in all six areas, but it is important to know enough to know who can help you, since it may be a matter of building a team for a case. While there may be a stereotype that you need science degrees or a technical background to get into the IP field, that isn't true for each area of IP law.
Scientific and technical skills may be key for utility patents, but those are not the only projects in the field. The path may be more difficult if you do not have any technical background, but there are still ways to get into the field if you are interested and willing to do the work to make connections.
The larger the firm, the more likely you are to specialize — as a patent prosecutor or litigator, for example. Smaller firms are more likely to have people who can handle a mix of cases and legal strategies.
Room for Growth
The professors also discussed that the field of IP law is fertile for growth, which means potential growth and stability in the IP job market. Professor Reilly offered a caveat that historically the field of IP does ebb and flow, but contemporary figures would suggest that IP law is situated now in a more stable place.
Overall, this presentation delivered clarity for those who were unsure of what to expect in this field, reassurance for non-technical students, and a proverbial "sealing of the deal" for technical students who were already sure of this career path.
The professors encouraged students interested in intellectual property law to pay attention to the value of classes like Contracts and Civil Procedure.
event photos: