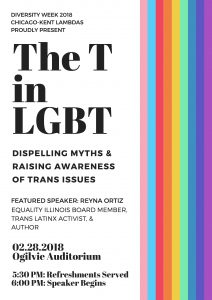 During Diversity Week 2018, The Chicago-Kent Lambdas hosted an event titled "The T in LGBT: Dispelling Myths and Raising Awareness on Trans Issues."
The event was moderated by Lambdas Secretary Elisabeth Hieber and featured Reyna Ortiz, a Trans Latinx activist and author.
Elisabeth began by introducing the wide ranging work and talents of Reyna, then continued with questions she had prepared, from basic vocabulary to outreach and advocacy within and for the trans community. The event ended with an open Q&A with the audience.
Featured Speaker: Reyna Ortiz

Moderated Questions
Trans 101:
Q: What sorts of terms and identities are included in the trans umbrella?
A: I've been indentifying as a transexual woman since 1994, but there are many more terms now, from gender fluid to gender ambiguous. Do your research! There are lots of terms now and there will be more as young people own their identities and define themselves.
Q: What is the difference between sex and gender?
A: I like the quote from Kate Bornstein "Gender is who you go to bed as; sexuality is who you go to sleep with."
Q: What does cisgender mean?
A: Cisgender is someone who is born and lives in the same gender; it does not affect their sexuality.
Q: How can I respectfully ask someone their pronouns?
A: Just that! Ask which pronouns they prefer to use. Just ask, so simple! It eases lots of tension, everyone can relax and move forward. It's acknowledging and showing respect to break down barriers.
Q: How can cis LGB people be good allies for trans people?
A: If you're unsure, always start by not making assumptions. It's always easier to clarify than to come back from the offense of misgendering someone.
Attorneys and trans issues:
Q: What are some ways that trans people interact with the legal system?
A: Surviving and thriving in a gender binary world is difficult and complex for people who don't fit into those molds neatly. Facing a system of unemployment, poverty and criminal justice, prostitution or minor issues like fraud can escalate with police and systemic misgendering. With a background in sex work, Reyna initially didn't want to go prison even as an advocate, remembering how hard a fight she had to stay out of it.
Q: How can students and/or attorneys get involved in trans community work?
A: There is only a small number of attorneys who have proven themselves to be strong allies. A large portion of trans people live in poverty, so most of the work is pro bono. Attorneys on staff with the Chicago House help with name change cases and misdemeanor issues.
Start by checking your own bias first to make sure you aren't going to make problems worse.
Don't show up claiming to be an ally who wants to get a feel for the organization if you aren't going to come back to help! 
Reyna's nonprofit work:
Q: How did you get so involved in as an advocate and activist?
A: I was aware of several organizations from visiting to use their services. One day, when visiting a local organization, I asked if there were any volunteer opportunities. Through that, I began learning more and speaking on panels.
On one panel a doctor asked me to get involved in her project and gave me the opportunity to represent my community and do outreach work. I began getting an education that hadn't been available to me and mentors, shifting from survivor mode to soaking in information.
It was a five-year journey to push myself out of sex work, to be able to push into being an advocate who can hold people accountable to my community and see who is really dependable.
Q: How did you connect to Equality Illinois?
A: They scouted me! I wanted to know why and see what would be beneficial to my community. I had been so focused on individual care, but this organization let me see the larger spectrum of issues that affect people.
Seeing the impact of a recent law that updated the standards for changing your birth certificate to get your correct gender, the celebration of people able to do this together at last, really changed my perspective on a political approach.
Some states are terrible to trans people, but we need to fight for the equality of trans people as a whole on the national level.
Q: What legal change would help the most?
A: Equality! There are so many layers of issues, so much history that has tucked people into the shadows. People just want to live and be left alone. So many little things like bathroom laws that aren't fair.
Q: How do you create and foster community among trans people (specifically women)?
A: It was 1999 when I first met other trans women to understand our culture and history—from the 50s, 60s, 70s—to see how they navigated the systems. The T.W.I.R.L name, "Trans Women in Real Life," was one that someone had been sitting on for years, but was just so beautiful. This is our everyday experience, even if we don't meet in large groups regularly.
Trans Pride
Q: What does (trans) pride look like to you, and why is it important?
A: Knowing that you're trans has been the biggest fear for many; for me, it's my biggest identity.  I've done so much to get here; to hide that would tear up my core with fear instead of owning it with pride. You need to be able to claim who you are—it's pride, not to hide, because self-love is so important.
Too many people have been torn down in their families and told so many negative things; self-love is key to survival.
Q: Why write your book T is for Truth?
A: So many LGB places were not trans-inclusive at first. Seeing how much I have survived, all the sisters I have lost and the stories and wisdom that is lost with them, I wanted to leave my story and my truth behind. I am confident that in the future it will be less taboo, but I wanted to start sharing my story to build a history for others to look back on.
Audience Q&A
Q: With so many complicated intersectional identities, how can I honor the culture and history of trans women who face immigration issues?
A: If you want to see courage, meet an undocumented trans woman. I'm working with a DACA recipient who is homeless and has been arrested for prostitution. She's terrified by the prospect of having to live in a country she does not understand if she were deported.
Q: What can law students do?
A: It's all about the meeting of the minds. We all have something to learn from each other – come listen and have conversations with trans youth!
Ally is a verb, not just a word. Need people who understand and are ready to step up if they want to be impactful.
Q: How do you work as a navigator for youth?
A: There's a drop-in center we call the Vogue school where the kids come in to practice dance, but we can also get them tested for AIDs or STDs, coordinate permanent housing for youth who are homeless, get them paperwork and IDs.
I like to be hands-on and get people through the system. When people misgender them in the system for basic needs like IDs, they often don't want to come back. At the Taskforce Prevention & Community Services on Cicero and Madison, I'm working with so many youth, doing so many applications and having powerful conversations – I can tell them "from sex work to social work," that's my story.
So many youth are coming out and owning their identities, rather than releasing it or hiding it, because they didn't have the resources to transition but are here to stay now.
Q: Does Chicago being such a segregated city affect your work?
A: Only in the money. Grants are only allocated in certain areas of the city. Many organizations are more divided by class than by race. I'm definitely bothered by the way money is dispersed so unequally. We need resources for the west side where the need is so much higher. It hurts to see such unequal distribution.
Education is key to unlocking the experience that trans people face. Why are people so mad about my gender when my existence is a non-factor for you, just like yours is for mine?
If you get the opportunity or want to volunteer, feel free to drop by after you can take the time to question yourself and how you want to help. People don't see the undersupport of trans people as a problem because they are such a small portion of the community.