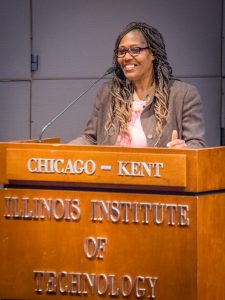 On  January 24, 2019, Chicago-Kent hosted the 4th Annual Dr. Martin Luther King Jr. Forum sponsored by the law school's Office of Diversity, Inclusion, Multiculturalism & Professional Development as well as several faculty committees, departments, and student organizations.
Erika K. Wilson, Thomas Willis Lambeth Distinguished Chair in Public Policy & Associate Professor of Law at the University of North Carolina School of Law, was the featured speaker, presenting a talk titled "Legal Racism:  How Inequities Created by the Law Can Be Eliminated by the Law."
After Professor Wilson's discussion, other panelists gave their perspectives on the impact of legal racism in finance, education reform, and housing policy. An open question and answer session followed that addressed specific examples, terms, and trends from the presentation and the speaker discussion. 
You can find the full videos of the event on our YouTube channel, or view individual videos with the slides and the different speakers and questions in a playlist or our recap below: Continue reading "Event Recap: 4th MLK Forum – Legal Racism: How Inequities Created by the Law Can Be Eliminated by the Law"