Rebecca Quade chose Chicago-Kent for the practical and immersive education that would help her build the skills she needs for her legal career. She found professors who support her goals and opportunities to push herself and discover new passions as a student leader.
Student Profile
Class year: 2019
Division: full-time day
Hometown: Aurora, IL
Academic Background: 

B.A., Political Science, DePaul

Social media: LinkedIn
What drew you to the legal profession & law school?
From a young age, many role models in my life were attorneys and it inspired me to pursue a career in the legal profession. I wanted a career path that would allow me to continuously challenge myself. The law allows me to push those boundaries by identifying issues, solving problems, and learning something new every day.
Previous Experience
Campus Manager & Nationwide Live Sales Coordinator, University Tees

Law Clerk & Internship Director, Fabbrini Law Group, LLC

Student Intern, IL State Senator Chris Lauzen
What stood out about Chicago-Kent?
When I visited Chicago-Kent, I was immediately drawn to the immersive atmosphere it provides students. It was clear the professors were extremely dedicated to each student's success and I would receive a very practical and balanced legal education.
My decision to attend Chicago-Kent was solidified once I was accepted into the Honors Scholars program. I was extremely interested in the notion that the Honors Scholars program provides students the opportunity to work closely with the dean and other faculty members to further explore a specific area or areas of interest throughout their law school career.
At Chicago-Kent
Do you have a favorite professor or class that has confirmed or changed your goals in coming to Chicago-Kent? 
Two of my favorite professors at Chicago Kent are Professor Rosen and Professor Birdthistle. Though their areas of expertise are quite distinct, both are extremely passionate about what they do.
I have always been interested in civil litigation, so naturally Professor Rosen's love for civil procedure and constitutional law resonates with me. I also really enjoyed learning about business and transactional law from Professor Birdthistle, and I hope to incorporate that knowledge into my practice as a contract litigator.
PROFESSIONAL EXPERIENCES AT CHICAGO-KENT
What programs or opportunities have surprised you at Chicago-Kent?
I have never viewed myself as a great public speaker and I was initially terrified to participate in the appellate advocacy program. However, once I began the process of preparing for my oral argument during my 1L legal writing class and subsequently decided to try out for the Moot Court Honor Society, I discovered a new passion.
Chicago-Kent places second in the 2018 Frank A. Schreck Gaming Law Moot Court Competition – Competitors Rebecca Quade '19 and Taylor Brewer '19 earn accolades as tournament's first- and second-place best oral advocates
— read more in the official news release
Student Leadership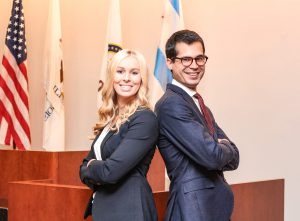 Moot Court Honor Society (MCHS)
Society of Women in Law (WIL)

2018-2019 – 3L Class Representative
2017-2018 – 2L Class Representative
What made you want to get involved in these roles?
I have always been extremely involved in extracurriculars while in school and I wanted to take the opportunity to develop my skills both as a writer and an advocate to better prepare myself for a career in litigation.
What contribution do you hope to make as a student leader?
I hope to contribute my knowledge and insight on how to maneuver through the demands of law school successfully, while finding interests that further incite a passion for the practice of law. I also hope to urge students to step out of their comfort zone and pursue opportunities that they might otherwise overlook.
Beyond Law School
What do you do to relax outside of school?
I love cooking and baking, traveling, and spending time with friends, family, and my miniature dachshund.
What neighborhood do you live in? What do you like about it?
I live on the border of Old Town and Gold Coast in Chicago. I really enjoy being a short walk away from Oak Street Beach on Lake Michigan and all of the many restaurants and shops on Wells Street.