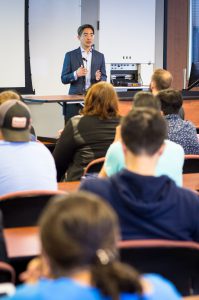 On August 29, 2018, the Center for Empirical Studies of Intellectual Property hosted a talk by Professor Edward Lee on his study of fair use as a potential defense to copyright infringement in music cases.
Professor Lee began with a case study of the recent Ninth Circuit Court of Appeals decision against Pharrell Williams and Robin Thicke upholding a district court ruling that their song "Blurred Lines" infringed the copyright of Marvin Gaye's 1977 song "Got to Give It Up."
Professor Lee explained that instead of arguing only that there was no infringement, the defendants should have asserted a fair use defense, a rare tactic in music cases.
This recap includes the video from this talk along with links to Professor Lee's recent publications on the topic of fair use in music cases.
Event Video
Not able to attend the event? View the slides and event video on our YouTube channel:
Recent Publications
You can get a quick overview of Professor Lee's research into fair use defenses for the music industry in his op-ed published earlier this summer on Billboard.com:
"#Songwriting shouldn't be like walking blindfolded through a copyright minefield," says @EdLeeProf in an op-ed for @billboard that argues #musicians should invoke 'fair use' as a defense in #copyright infringement suits. https://t.co/JfQXQ3gWV3

— Chicago-Kent Law (@ChicagoKentLaw) July 20, 2018
Professor Lee's study "Fair Use Avoidance in Music Copyright Cases," published in the Boston College Law Review, is the first empirical study of fair use in cases involving musical works:
Hot off the presses! https://t.co/FJYM4nPj2K Fair Use Avoidance in Music Cases pic.twitter.com/VPAW0e4uGu

— Edward Lee (@edleeprof) July 31, 2018
Event Photos