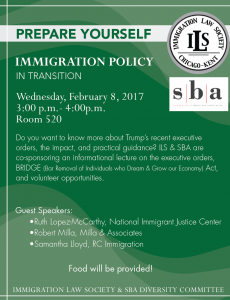 On Wednesday, February 8, 2017 the Chicago-Kent Immigration Law Society and the SBA Diversity Committee sponsored an event reviewing recent executive orders related to immigration law, the BRIDGE ACT and volunteer opportunities.
The speakers were Chicago-Kent alumni with experience in immigration law for corporate cases, family law, and volunteer advocacy.
ILS President Lupita Jimenez moderated the panel of speakers, providing context for several of the recent immigration issues and asking questions of the panelists: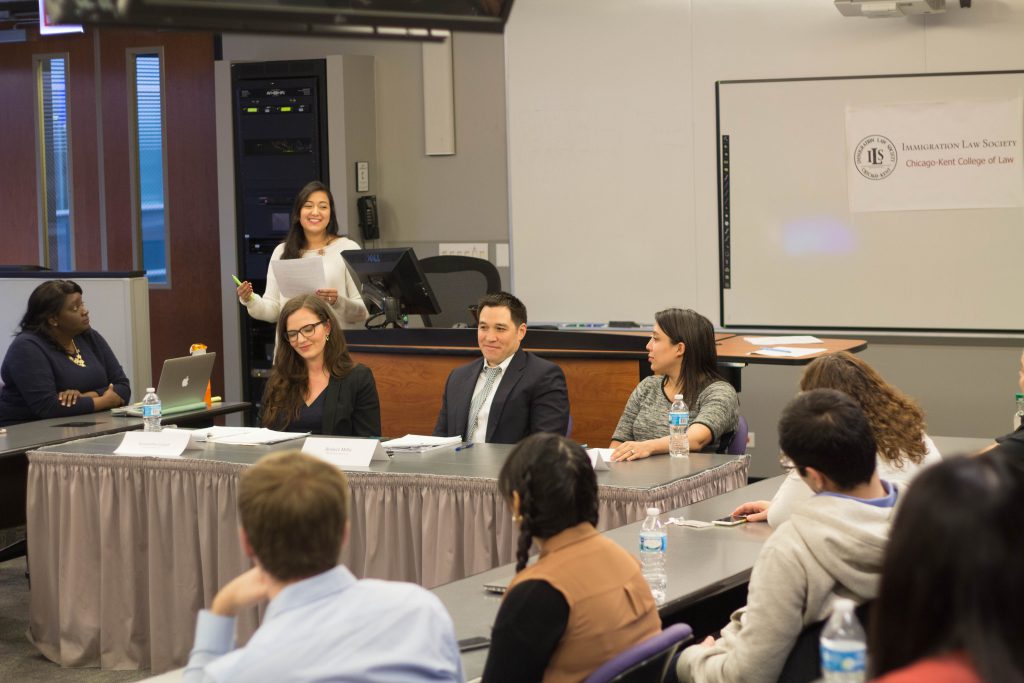 On January 27th, Trump signed an executive order barring citizens of 7 countries – Iraq, Iran, Sudan, Libya, Somalia, Syria, and Yemen from entering the US for 90 days while the federal government revisits its screening processes. Needless to say, the order triggered chaos at U.S. airports last weekend. Some travelers abroad were turned back from flights into the U.S., crowds of hundreds of people packed into arrival areas to protest and legal objections were filed across the country.
Can you explain who else was affected by the recent executive orders?
Looking narrowly at the issue of permanent residents who were affected, it really depends on which day. In the first 72 hours there were green card holders who were being delayed at port of entry locations and there were reports of people signing abandonment forms. Even dual citizens were being detained at airports. The DHS needing to issue a statement noting "the entry of lawful permanent residents is in the national interest" is one example of how unpredictable the response to the EO was.
Another group impacted by these orders will be the local organizations that support refugees, such as Heartland Alliance and RefugeeOne – if they lose funding and staff because of temporary limitations on refugees from specific countries, it will be very difficult for them to suddenly begin preparing for larger numbers when the cutoff date expires.
More broadly speaking, the changing laws and the election transition has already created a great deal of fear about the future, even from people who are not directly affected by these specific policies.  People are also much more concerned about the impact of the SCOTUS nomination on immigration law, given the current appeals on the travel ban and other upcoming immigration cases.
---
The order also states, "I hereby suspend entry into the US, as immigrants & nonimmigrants, of such persons for 90 days from the date of this order." An immigrant is a legal permanent resident – LPR (a green card holder) – and a nonimmigrant is someone with a visa. There have been multiple reports in the past week of both LPRs and people with valid visas being blocked, either after they arrived in the US, or as they boarded planes overseas.
What did this order mean for LPRs? Will LPRs be subjected to further screening at the border? Does this apply to anyone with a green card?
This language exacerbated the "secondary inspection" process for people from many countries, not just the 7 that were specifically targeted by the EO. Everyone is subject to basic inspection as they enter the US. Secondary inspection is the next step, but others are being put into deferred inspection.
Without clear guidance there hasn't been much consistency in how this "heightened scrutiny" is applied. Legal advice has usually been "you should be fine" because it always just depends – much of immigration law is subject to individual judgement and a person that is rejected by one office might be accepted by the next location with the exact same circumstances and papers.
The lack of clear guidance has been very confusing for the immigration officers as well as the refugees and immigrants affected by these new orders. There hasn't been a clear line between people being detained vs. processed, which has a big impact on whether individuals can get access to legal counsel.
---
Can you explain the I-407 and the repercussions of signing this form?
The reports of individuals signing I-407s in airports in order to be released from detention or inspection has been very alarming since this means they have "abandoned permanent residency" and given up their rights granted by their green cards. This normally should only be done voluntarily and with informed consent, for instance in the case of someone who decides to return home to take care of a family member.
Virginia has begun litigation  on behalf of two Yemeni brothers, Tareq Aqel Mohammed Aziz and Ammar Aqel Mohammed Aziz,  who were pressured into signing I-407 forms at Dulles Airport on January 28.
The interpersonal dynamic of immigration is already very intimidating. When you add handcuffs and a sense of personal danger to refugees, whose only experience of governments has been abusive, they will find it very difficult to confront officers who ask them to give up rights.
---
At least four federal judges across the country have blocked part of the order and temporarily ensured refugees and travelers who reached U.S. soil would not be deported. On Friday, U.S. District Judge Robart of Seattle issued a nationwide temporary restraining order blocking the travel ban. And on Thursday 2/09/2017, the 9th Circuit Court of Appeals denied an emergency motion to stay that temporary restraining order.
Have you heard from other attorneys or have you experienced that border agents are not complying with some of those directives from the federal judiciary? What can people in these situations do?
It's important to be very careful about these types of stories and rumors because there has been so much conflicting advice and it's important to rely on trustworthy organizations at the front lines to find out what's going on.
The American Immigration Lawyers Association has been working to track rumors and do fact checking. (see their Immigration Politics daily ticker here)
---
Many inquiries have also come from student visa holders and young people benefiting from DACA. Deferred Action for Childhood Arrivals is a federal program started by Pres. Obama in 2012 that allows undocumented immigrants who entered into the US before their 16th birthday and before June 2007, to receive a renewable 2-year work permit and exemption from deportation (see all requirements here).
In the meantime, if someone is a refugee or otherwise affected by the EO, they should come now and not wait on the next decision.
What advice can you give to current DACA recipients and student visa holders? Should DACA recipients/student visa holders apply to renew now, or should they wait?  What if someone is eligible, but hasn't applied yet. Should they apply immediately?
Because DACA was implemented through an executive order, its future is very uncertain in a Trump administration. One speaker noted she wouldn't personally risk sending information to a relatively hostile government. Renewing may be another issue, but each person would need to balance the risk of providing information.
Some people may find it worth the calculated risk if they need to get legal income to support family members, for example.
What about student visas?
For individuals from the 7 countries affected by the travel ban, it would be advisable not to leave the country at this time since it's unknown if they would be affected on re-entry or if their visa status might be affected by a policy change while they are traveling.
Lawyers are recommending legal screenings for any people worried about how changes to immigration law might affect them. It's important to work with someone who has experience with the nuances of immigration law and can identify all the possible range of options and forms of relief someone may be eligible for.
Legal screenings can also help for other purposes: lawful admission into the U.S. (as with a student visa) is a positive step for later getting green card status.
---
(BRIDGE) Act – The Bar Removal of Individuals who Dream and Grow our Economy ACT is a bipartisan bill sponsored by U.S. Senators Lindsey Graham (R-SC) and Dick Durbin (D-IL) in the Senate and by Representatives Mike Coffman (R-CO-6), Luis Gutierrez (D-IL-4) and others in the House.
What would the BRIDGE Act do if it were enacted? Who would be eligible for protection under the BRIDGE bill? How are the provisions of the BRIDGE bill different from the DACA programs?
The BRIDGE act was proposed to replicate most DACA policies, though currently it removes the "advanced parole" option that allows individuals to leave and return legally (which can be an initial step needed for green card applications). It may also provide protection for the information that is provided in the application process to protect it from being used against anyone.
---
Can you describe the experience of volunteering at O'Hare recently?
The International Refugee Assistance Project sent out a bulletin for lawyers needed at O'Hare by 1pm on Saturday. The first step was to speak to families awaiting people who were supposed to have arrived to try to find out who had been detained. There was an immediate turnout from volunteer attorneys trying to help and a lot of very scared people.
The lack of clear guidance was affecting many people, for instance a man who had dual citizenship in the UK and Iran and permanent resident status in the US through a "national interest waiver" and was still detained, along with his US citizen wife and daughter.
Situations like this can feel like a very lonely battle, but with all of the protesters showing up to support them it didn't feel so alone this time.
---
What can others do to volunteer?
Get involved with local organizations in your neighborhood – there are 500K+ undocumented individuals in Chicago, so getting to know your neighbors may be a key way to get involved in this issue.
The National Immigration Justice Center in Chicago is looking for Spanish speaking volunteers to help translate. They also will have a training program for law students to learn how to conduct legal screenings that can be reviewed by attorneys on site. They'll have an event coming up in Chicago on February 24th and 25th – see volunteer flyer below.
The CARA Family Detention Project in South Texas is looking for people to help prep detainees for credible fear interviews. Some law schools are working on externship programs with asylum law classes followed by time at the border working with detainees and immigration lawyers.
Many organizations (like the ACLU) have a high response of attorney volunteers on immigration laws right now, but are still looking for people who can help interpret in Arabic, Spanish, and French.
---
Could the "National Security" justification used in these EOs be used against other groups?
It's likely, but the primary constitutional barrier would require that ethnicity and religion can't be used to discriminate against people broadly.
---
Legal Documents for Recent Immigration Policy
Executive Orders:
Executive Order 13767 of January 25, 2017, "Border Security and Immigration Enforcement Improvements"
Executive Order 13768 of January 25, 2017 "Enhancing Public Safety in the Interior of the United States"
Executive Order 13769 of January 27, 2017 "Protecting the Nation From Foreign Terrorist Entry Into the United States"
Executive Branch Documents:
Court Documents: