At the end of the spring 2018 semester, faculty and staff gathered to celebrate the careers of five faculty members who are retiring this year: Professors Gerald Brown, Sheldon Nahmod, Michael Spak and Joan Steinman, and Keith Ann Stiverson, director of the Library.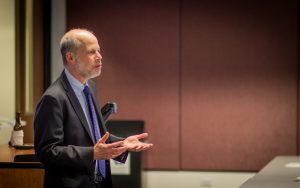 Dean Krent introduced the event, saying Chicago-Kent "owes such a debt to these individuals, who have together offered over 200 years of teaching to the school." He noted that "their love of teaching and their love of the school have made such a mark on this institution, and they will be missed."
After the dean's introduction, several faculty and staff shared stories of the impact each faculty member present had on the school and some personal favorite memories. The retiring faculty responded with reflections on their time here at Chicago-Kent, which are excerpted below.
Professor Gerald Brown
Professor Richard Gonzalez, director of clinical education, shared his memories of the contributions Professor Gerald Brown has made at Chicago-Kent, starting in 1990 with the tax clinic. "They were so glad to have a highly accomplished big-firm tax lawyer with years of experience apply. Since he left the tax clinic, he has filled so many important needs."
In response, Professor Brown noted that he left law school 57.5 years ago and described watching the legal practice from a range of perspectives through the years. His career included jobs with the federal government in Washington, D.C., a law firm, a publicly traded corporation and, of course, teaching at Chicago-Kent.
Professor Brown estimated he's taught 10 or 11 different courses in the tax and corporate law curriculum and said Chicago-Kent has been the most congenial workplace he experienced. He concluded by thanking everyone for "a good run for 27 years."
Distinguished Professor Sheldon Nahmod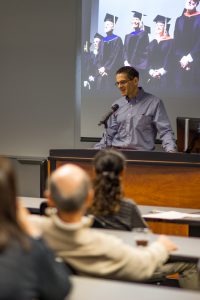 Distinguished Professor Mark Rosen described meeting Distinguished Professor Sheldon Nahmod during his own interview to teach at Chicago-Kent. He described the many ways in which he has found Professor Nahmod to be a wonderful mentor, from teaching to his scholarship, and said he looks forward to seeing what Professor Nahmod does next.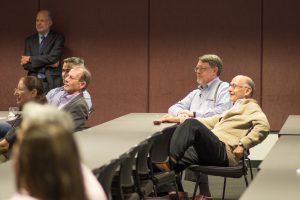 In response, Professor Nahmod described his life as a great example of the American dream, as a first-generation American with parents who were immigrants and did not attend high school.
He said he's fortunate to love what he does and noted several important anniversaries he's celebrating along with retirement this year:
35 years of the Section 1983 conference

40 years of teaching at Chicago-Kent

40 years of his Section 1983 treatise, next year

50 years of teaching law, next year.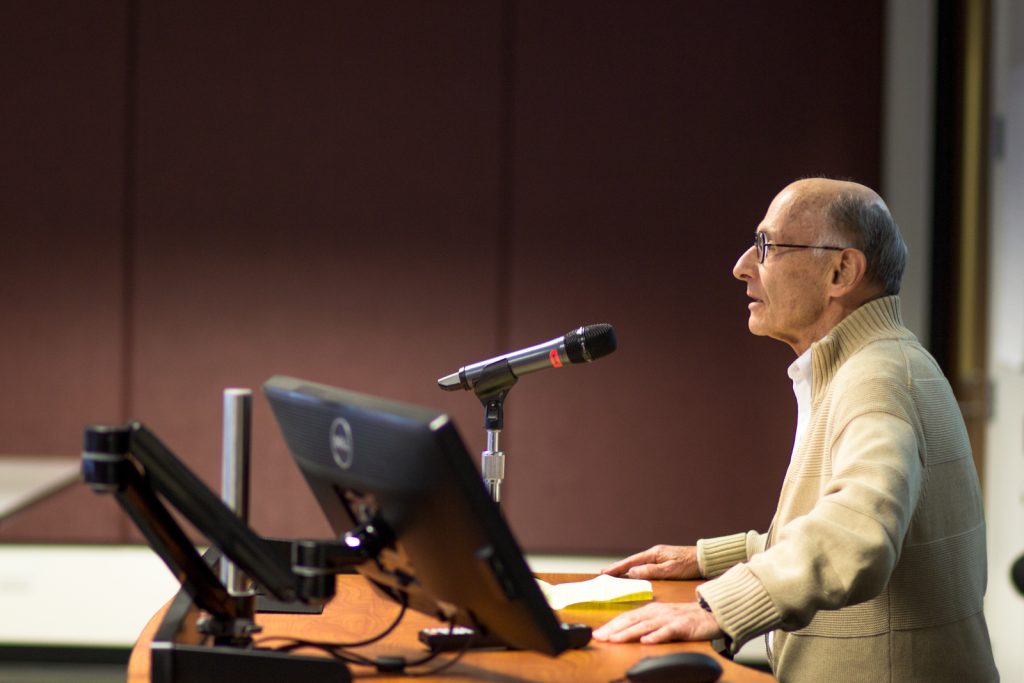 Professor Nahmod also described the cases he's argued in the Supreme Court and in many circuit courts while working at Chicago-Kent. Professor Mary Rose Strubbe, an alumna and former head of the Legal Research & Writing Program, was his student research assistant and helped him with his First Circuit Section 1983 case, which ultimately went all the way to the Supreme Court.
Someone asked Benjamin Franklin why he retired in his 40s —he wanted to be useful. That's very important. To be useful to yourself, to your profession and students. 

— Distinguished Professor Sheldon Nahmod
Professor Nahmod noted that he wants to continue to be useful to Chicago-Kent, students here, and the profession, and he looks forward to teaching a law and religion course next fall.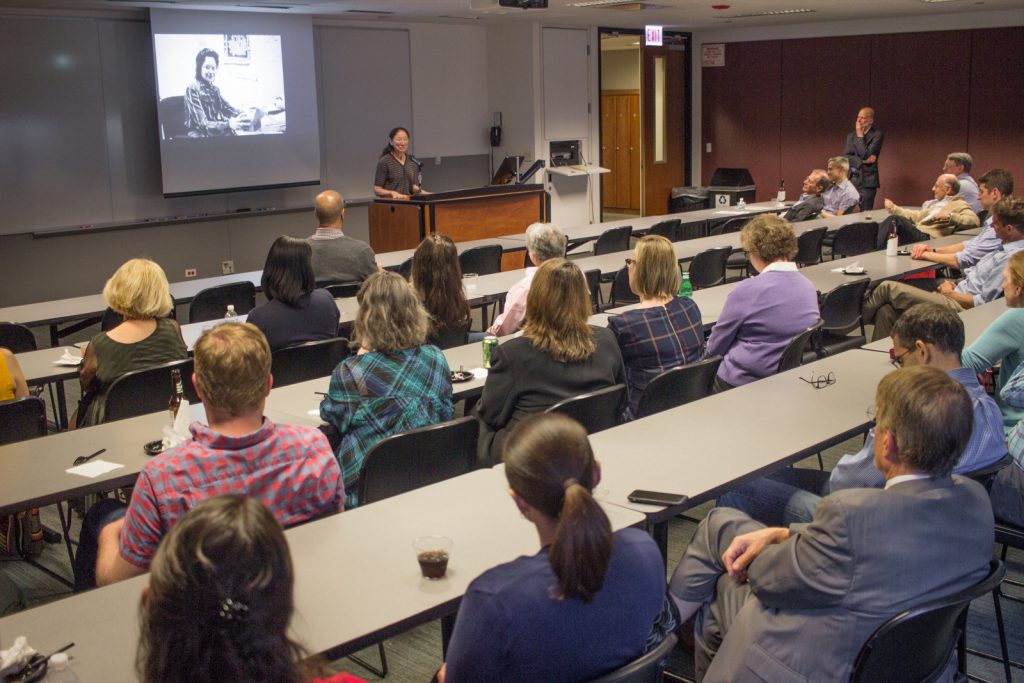 Distinguished Professor Joan Steinman
Professor Nancy Marder described Distinguished Professor Joan Steinman as "a pillar of the Chicago-Kent community," noting that she was always there to share in the faculty lounge, in the halls of Chicago-Kent, and at all events.
For many of us at Chicago-Kent, and certainly the case for me, she has been a role model personally and professionally, and her retirement will mark the end of an era. In all of the ways we evaluate ourselves in academia: based on scholarship, teaching, and service, Joan is a rock star.

— Professor Nancy Marder
She concluded by saying that, with Professor Steinman retiring, "I won't always be able to ask for advice, but I can ask myself 'What would Joan do?' and know that will guide me to do the right thing."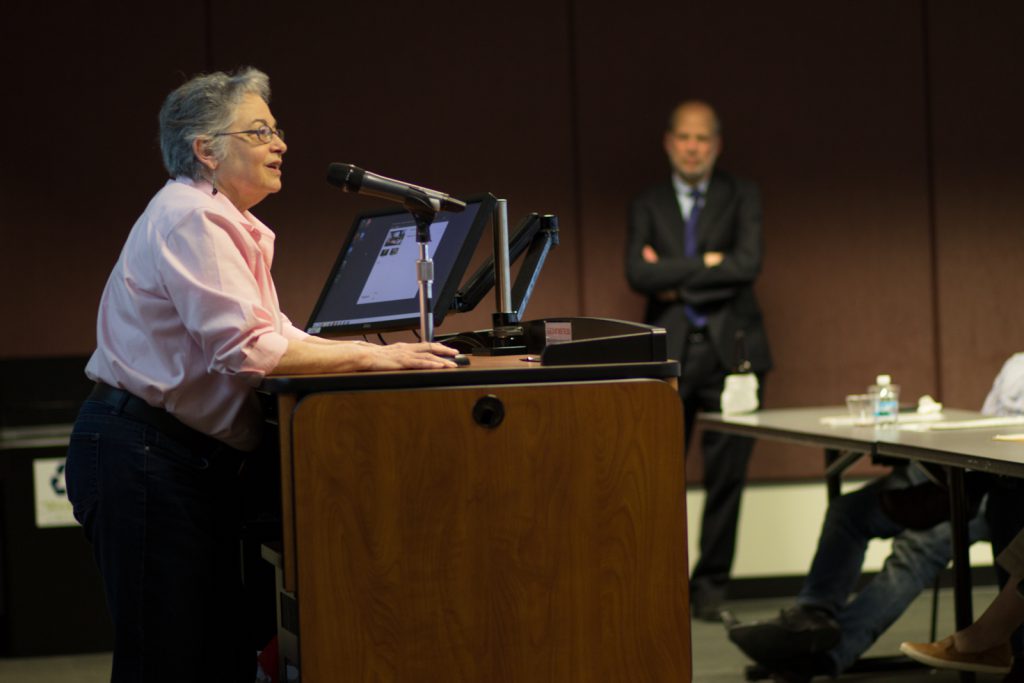 In response, Professor Steinman shared memories of her time at Chicago-Kent, saying she knows the intelligence, devotion, commitment of faculty and staff here "really promise very good things."
I've had so many friends here, so many people who have been there for me, who have been there to celebrate the good times and lift me up in the bad times. I can't imagine another place that would have been as wonderful, warm, and family as this place has been. To all of you, I really appreciate your friendship, and I won't be disappearing too fast.

— Distinguished Professor Joan Steinman
Keith Ann Stiverson
Dawn Rupcich, assistant dean for administration and finance, was the final person to introduce a retiree, sharing her memories of getting to know Keith Ann Stiverson as a leader during the 9/11 terrorist attacks, as well as of many personal memories throughout the years:
That's when she showed us her spirit, she was actually fearless. I know we are all going to miss Keith's wit, audacity, brilliance and breadth of knowledge. You are a kind and caring person, and you will be greatly missed.


— Dawn Rupcich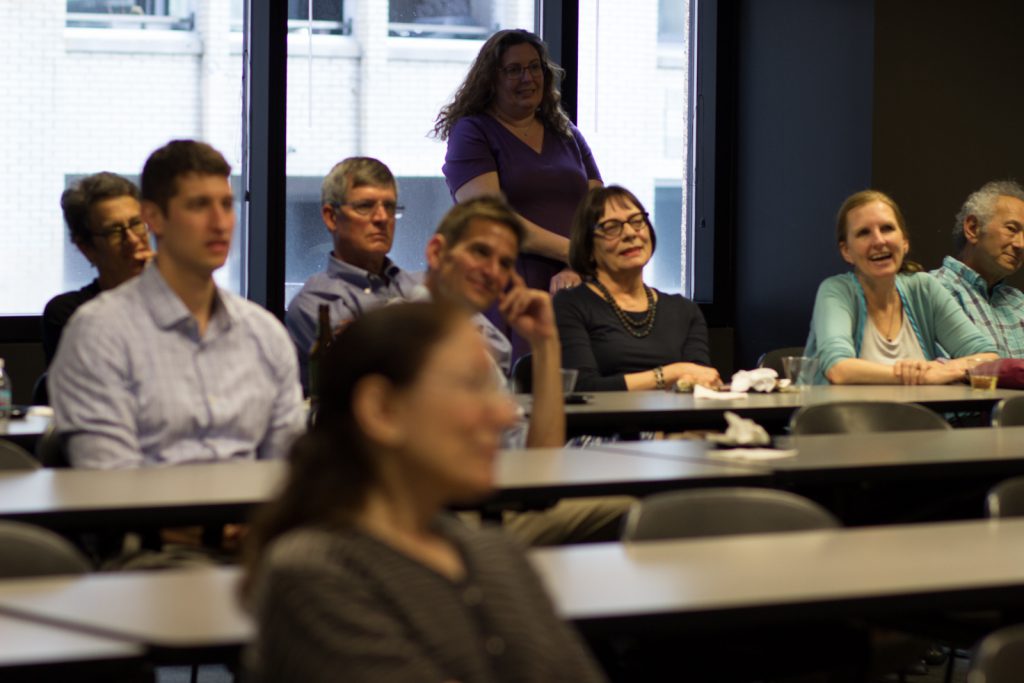 Keith Ann Stiverson responded that it was an honor to be with so many wonderful people at the event and that when she met Chicago-Kent law students and alumni, she often heard of these professors that "they're the best teacher that I ever had."
She described a career in government and other law schools before coming to Chicago-Kent and said she felt as the other retiring faculty did:.
This is a place where people get along, nurture each other. This is the best faculty for nurturing young faculty. I'm so proud to have been here, and it's been the best experience. This is the community that I love, but I have road trips to take and things to do. Thanks for all the opportunities I've had, and you're all very close to my heart.

— Library Director Keith Ann Stiverson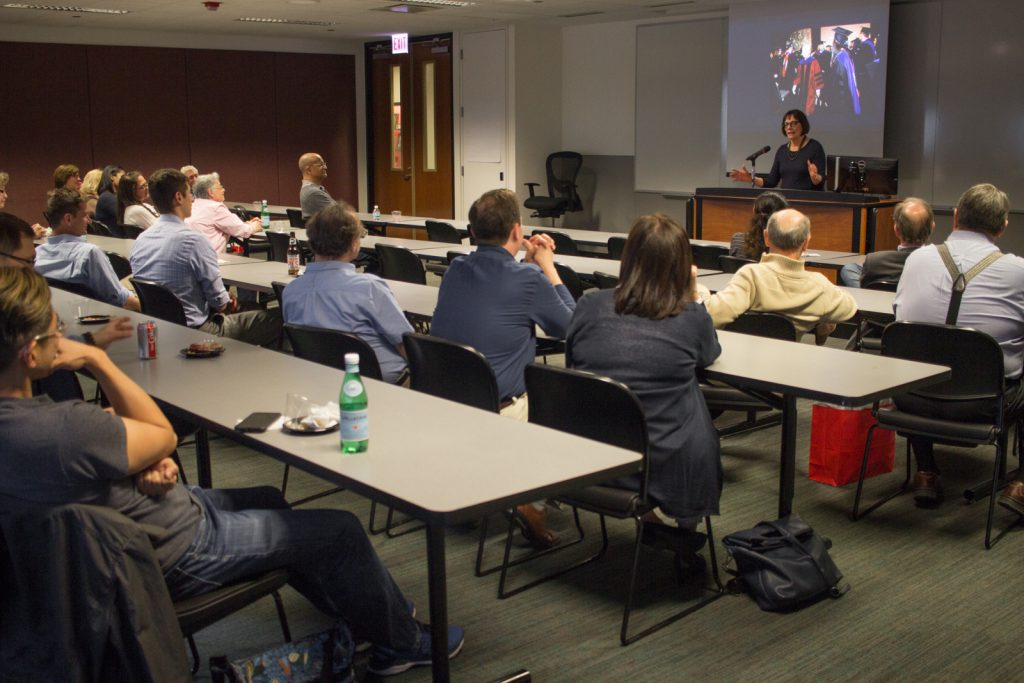 The event ended with a toast to the next chapter for all of the retiring faculty members.