In honor of Martin Luther King Jr Day, we are reposting this essay by ISCOTUS Co-Director Christopher W. Schmidt.
Among the most important of Martin Luther King, Jr.'s contributions to American history were his commentaries on the relationship between the law and social justice.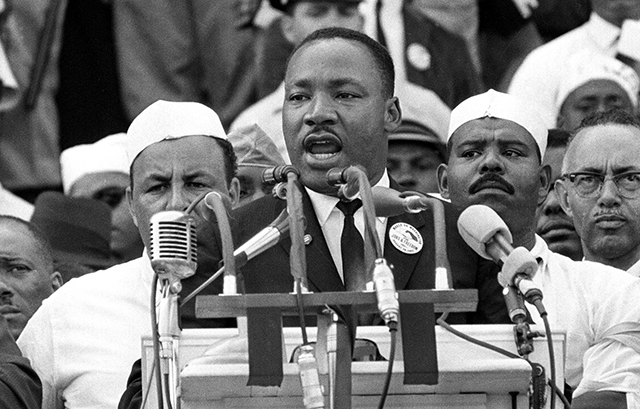 King's views toward the law can be divided into two categories: law as obstacle and law as opportunity.
Law as an Obstacle to Racial Justice
Much of the civil rights movement was a struggle against law: against racially discriminatory laws or racially neutral laws that segregationists used to attack civil rights activism.
Southern police arrested civil rights protesters—including, on multiple occasions, King—for violating practically every criminal code provision: disturbing the peace, marching without a permit, violating picketing or boycott laws, trespassing, engaging in criminal libel and conspiracy. The NAACP was prosecuted in Alabama and elsewhere for refusing to disclose its membership rolls as required by state law. Several southern states went after civil rights attorneys for legal ethics violations. Montgomery used minor traffic ordinance violations as a way to undermine the carpools used during the Montgomery Bus Boycotts. Alabama prosecuted King on charges of tax evasion.
King often struggled to explain why he believed civil rights activists were justified in breaking certain laws—even some laws that on their face said nothing about race—while also condemning segregationists for their defiance of Brown and other federal civil rights requirements. He famously tackled this question in his 1963 Letter from Birmingham Jail, where he differentiated just and unjust laws. "A just law," he wrote, "is a man-made code that squares with the moral law, or the law of God. An unjust law is a code that is out of harmony with the moral law." Since segregation laws fall squarely in the later category, "I can urge men to obey the 1954 decision of the Supreme Court because it is morally right, and I can urge them to disobey segregation ordinances because they are morally wrong."
A more challenging situation, King continued, involves a law that "is just on its face and unjust in its application." It was this kind of law that landed King in his Birmingham jail cell, since he had been arrested for parading without a permit. "Now, there is nothing wrong with an ordinance which requires a permit for a parade," he explained, "but when the ordinance is used to preserve segregation and to deny citizens the First Amendment privilege of peaceful assembly and peaceful protest, then it becomes unjust."
In this particular case, King might have won in the court of public opinion and certainly in the court of history, but he lost in the highest court of the land. When the Supreme Court finally decided to hear an appeal of the conviction of civil rights protesters for violating a state court injunction ordering them to refrain from demonstrating, the Court ruled 5-4 against the civil rights protesters. King and his cause generally fared well before the Supreme Court, but this case was one of a handful of exceptions. Justice Stewart, writing for the Court, reprimanded the protesters in Walker v. Birmingham:
This Court cannot hold that the petitioners were constitutionally free to ignore all the procedures of the law and carry their battle to the streets. One may sympathize with the petitioners' impatient commitment to their cause. But respect for judicial process is a small price to pay for the civilizing hand of law, which alone can give abiding meaning to constitutional freedom.
For King, unjust laws—and the courts that enforced them—were obstacles in the cause of racial justice.
Law as an Opportunity for Advancing Racial Justice
And then there were the laws that King and other civil rights activists wanted: school desegregation orders; non-discrimination requirements for restaurants, hotels, and private employers; voting rights protections. King's attitude toward these kinds of civil rights laws is also quite interesting.
King understood court decisions and legal reform as a central component of broader political and social struggle. Although he certainly saw the importance of courtroom decisions and legislation, when he talked about the power of law, he tended to focus on the difficult work required to give life to basic legal principles. Judicial and legislative breakthroughs were not just moments for celebration. They were calls to action.
King's sometimes tense relationship with civil rights lawyers helped shape his attitude toward the law. From the start of his civil rights career, King recognized his debt to the civil rights lawyers. In December 1955, on the eve of the Montgomery bus boycott that first brought him to the nation's attention, he gave a passionate speech in which he framed boycotters' cause as building on the long work of civil rights lawyers, particularly the dramatic NAACP victory in Brown the year before. "If we are wrong," he declared, "the Supreme Court of this nation is wrong. If we are wrong, the Constitution of the United States is wrong. If we are wrong, God Almighty is wrong." Furthermore, civil rights lawyers played a critical role in the eventual triumph of the boycott. The boycott was teetering on the brink of failure, faced with a potentially crippling legal challenge to the carpool system on which the boycotters relied, when news arrived that the Supreme Court had struck down the segregated bus system as unconstitutional.
Yet King also sought to distance himself from the NAACP and its litigation-based tactics. There was an element of inter-organizational rivalry at play here—King's SCLC competed with the NAACP for attention and funds. There was also an element of a generational divide at play, as King became more closely aligned with the younger element of the movement that was committed to direct-action protest and lashed out against the legalistic tactics favored by the older civil rights activists.
The work of lawyers was important, King stressed, but it must not dominate the energy of the movement. Direct-action protest was both an extension of, and an alternative to, the NAACP's project of school desegregation litigation, which by the late 1950s had largely stalled in the face of obstructionist legal maneuverings. A new wave of civil rights protest emerged, sparked by the student lunch counter protests of 1960 and motivated in large part by frustration with the slowness of legal reform. To understand what drove African Americans to take to the streets to demand their rights, King explained, "[o]ne must understand the pendulum swing between the elation that arose when the [school desegregation] edict was handed down and the despair that followed the failure to bring it to life." He critiqued what he saw as an overly idealistic vision of the law that the NAACP lawyers relied upon in making their case for Brown. "When the United States Supreme Court handed down its historic desegregation decision in 1954, many of us, perhaps naively, thought that great and sweeping school integration would ensue."
Injustice might find expression in unjust laws, but King emphasized that the roots of injustice are deeper. For King, the law by itself was limited in its ability to affect hearts and minds; to truly uproot entrenched patterns of inequality, one must acknowledge the limits of legal reform. African Americans "must not get involved in legalism [and] needless fights in lower courts," King warned, for that was "exactly what the white man wants the Negro to do. Then he can draw out the fight." This was the harsh lesson of Brown and massive resistance. "Our job now is implementation. . . . We must move on to mass action . . . in every community in the South, keeping in mind that civil disobedience to local laws is civil obedience to national laws."
One of King's contributions to the struggle for racial equality was his passionate skepticism toward the efficacy of legal change when it was unaccompanied by organized social action.
ISCOTUS Co-Director Christopher W. Schmidt is Professor of Law and Associate Dean for Faculty Development at IIT Chicago-Kent College of Law. His book, The Sit-Ins: Protest and Legal Change in the Civil Rights Era, is about to be published by the University of Chicago Press.