On this day in 1898, Justice Joseph McKenna took his oath of office to serve on the Supreme Court.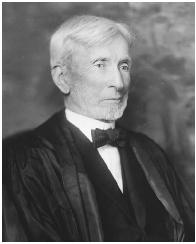 President William McKinley nominated McKenna to the Court on December 16, 1897, to fill the seat of Justice Stephen J. Field, who had retired. McKenna was serving as President McKinley's Attorney General at the time. The Senate confirmed him that same day by a voice vote, over the opposition of lawmakers, newspaper editors, and two federal judges, all of whom believed him unfit for the position.
In a ceremony of the members of the Court, Chief Justice Melville Weston Fuller administered the statutory oath to Justice McKenna in the robing room,.
Then, at noon, the Chief Justice and the associate justices took their seats on the bench. The clerk read Justice McKenna's commission while McKenna stood. Everybody in the chamber rose and McKenna read the judicial oath. The clerk presented McKenna an open Bible. According to the Buffalo Enquirer, "upon its page [McKenna] imprinted a kiss that could be heard over half the courtroom."
The court marshal escorted Justice McKenna behind a curtain behind the bench, and the new associate justice appeared at the left of the Chief Justice.
The Buffalo Enquirer account continued:
As he ascended the steps leading to the platform, his hand was warmly clasped by Justice [Edward Douglass] White, who occupied the adjoining chair, and he was formally welcomed to his seat. All the other justices faced the new member and bowed to him, but none shook hands.
The Court then turned to the business of the day.
McKenna would serve on the Court until his retirement in 1925.
This post was drafted by ISCOTUS Fellow Bridget Flynn, Chicago-Kent Class of 2019, and was edited by ISCOTUS Editorial Coordinator Anna Jirschele, Chicago-Kent Class of 2018, and ISCOTUS Co-Director and Chicago-Kent faculty member Christopher Schmidt.