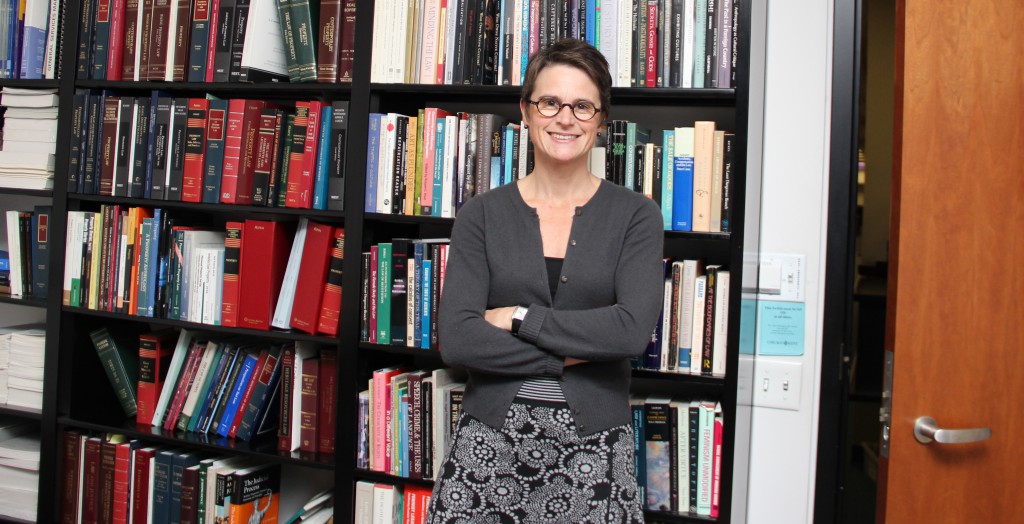 IIT Chicago-Kent College of Law Professor Sarah Harding received the John W. Rowe Excellence in Teaching Award at IIT's annual Faculty Recognition and Awards Reception on April 9. The award was given in recognition of Professor Harding's noteworthy teaching efforts and dedication to IIT. University deans Christine Himes (Lewis College of Human Sciences), Harold Krent (Chicago-Kent), and Wiel Arets (College of Architecture) served on the review committee for the award, which was announced by IIT Provost Alan Cramb. The award is named for John W. Rowe, past chairman of the IIT Board of Trustees and chairman emeritus of Exelon Corporation.
Professor Harding joined the IIT Chicago-Kent faculty in 1995. Her research focuses primarily on property-related issues—in particular the social and cultural significance of property. She teaches a range of courses, including property law, cultural heritage law, comparative law, and comparative Constitutional law. From 2008 to 2014 she was associate dean for faculty research and development. Professor Harding has a B.A. from McGill University and holds law degrees from Dalhousie, Oxford (Rhodes Scholar), and Yale.
Find Professor Harding's full biography, including links to her scholarship, at: http://www.kentlaw.iit.edu/faculty/full-time-faculty/sarah-k-harding.