What is Procertas?
In practice, lawyers need to use Word skills to create professional briefs. We teach these skills in class, but by using the Procertas Word Brief Module, you can practice and learn additional skills at your own pace.  
If you have your Procertas login, you can see the Word Brief Module here.
This module will be particularly helpful for 1Ls.  The module covers many of the skills the librarians will be teaching in your class, giving you a chance to practice before you have to turn in your assignments.
For more about Procertas, see our earlier blog post.
How do I Win?
Complete Word Brief modules and you'll be entered into monthly drawings for Starbucks Gift Cards!  
The contest will run from January 29 until May 15, 2020, at 5:00 pm [updated]. Students who participate can win one of five $25 Starbucks gift cards. Students may only win the raffle once. 
Who is eligible? 
Only Chicago-Kent law students may participate – we especially hope to see 1Ls enter!   
Law staff and faculty are not eligible for this contest, but can use Procertas for their own training. Other members of the IIT community cannot use Procertas and are not eligible, nor are law students from other schools.
Raffle Entries
Completing either the Word Brief Training module once or the Word Brief Assessment module once will qualify the student for one raffle entry.  
That is, students who complete both the Training Module and the Assessment module will qualify for 2 entries.

Completing individual modules more than once will not qualify for extra entries.  

Completing other modules will not qualify for entries in this contest (e.g. Word, Excel, PDF, or PowerPoint).

Students who receive an Expert score on the Word Brief Assessment module will receive an additional entry.  Students can take the Word Brief Assessment module more than once to increase their score but will only get an extra entry upon achieving an Expert score.  
Example
Here, I've completed three modules.  The Word Brief Trainer and Word Brief Assessment modules qualify me for two entries.  Completing the PDF trainer modules does not qualify me for an additional entry. I can take the Word Brief Assessment module again to raise my score, but I'll only get a third entry if I earn "Expert".
Winners
One winner – student with the highest score in the Word Brief Assessment module as of 5:00 pm on May 15 [updated].
Tied scores will be determined by random drawing. 
Students who complete the Word Brief Assessment and/or Word Brief Training modules will be entered into the random drawing held each month. Students whose names aren't drawn in the month they complete a module will be eligible for drawings in later months.  
Deadline to qualify each month:  
5:00 pm, Monday, February 24 

5:00 pm, Monday, March 30

5:00 pm, Friday, May 15 [updated]
Random drawings will be held each month after the deadline. Winners will be notified by kentlaw email. 
February – one winner

March – one winner

May – two winners
The Educational Technology Librarian will check Procertas online reports to see which Word Brief modules have been completed.  Only those modules that Procertas marks as "finished" or have a score will be eligible for prizes. Partially completed modules will not be eligible.  
How to access the Word Brief Modules
Check your mail! You received a login for Procertas at the start of the Fall semester.  If you didn't validate your login at that time, you received another email at the beginning of this semester.

Once you log in, go to the Modules List.   You'll see ten training and assessment modules, including the Word Brief Trainer and Word Brief Assessment.  

Start the Word Brief Trainer and/or the Assessment.

If you have trouble accessing Procertas, contact Deborah Ginsberg,

dginsberg@kentlaw.iit.edu

.  
The modules in yellow are eligible for the contest.  You can complete the others but they do not qualify for raffle entries.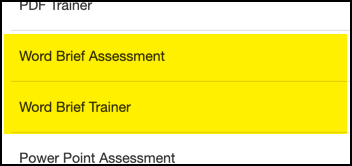 Questions?  Contact Deborah Ginsberg, Educational Technology Librarian, dginsberg@kentlaw.iit.edu.