Are you smarter than Paul Manafort's lawyers?  You may remember earlier this year in the Manafort case attorneys put black boxes on sensitive information.  They thought they had added redactions. It turned out that anyone could copy and paste that information.  
Take a look here and see for yourself:
The Daily Show had a field day.
Redaction is an important skill for every attorney. Recently, the CS-SIS Blog published a step-by-step guide describing how to use Adobe Acrobat Pro to redact information.  When Acrobat redacts information in a document, it also adds black boxes — ones that completely obscure the information.  The redacted information cannot be copied and pasted.  The black boxes cannot be removed.  
If you prefer to learn by video, this one describes the same steps.
Adding Text to Redactions
Once you get used to redacting, there are additional tools you can use to improve your redactions.  For example, you can add text to your redactions using the "overlay" tool. The steps below – using Adobe Acrobot Pro 2017 (Mac) describe how:
First, click "Properties":

Next, check the "Overlay" box:  

You can then set the font color and the text: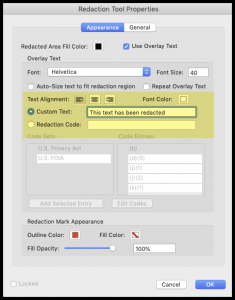 The redacted text will look like this:

You can see redactions that look like this in the latest famous redacted document, the Mueller Report:

The PDF available for this report features redactions that cannot be copied or removed.  The redactions include text explaining the reasons for the redactions. Pundits' personal opinions about the redactions aside, the technique appears to be flawless.
Failing to redact sensitive information is one of the most embarrassing (but avoidable) ways attorneys can hurt their clients.  Use the right tools to redact – and double check your work – before sending it to anyone else.