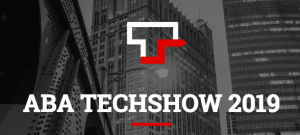 Are you looking for a quick way to get up to speed on the latest legal technology?  ABA hosts an annual Techshow in Chicago that provides one of the best opportunities for students to engage with emerging legal technologies hands on.  The Techshow runs from February 28-March 2 at Hyatt Regency Chicago.  The conference will feature dozens of one-hour sessions on all kinds of legal technologies – from practical tips for using Microsoft Office, to digital security, to favorite websites and mobile apps.
Register for the Techshow
Students can register to attend the whole conference for only $100 (a great bargain).  If you don't have time to attend the sessions, the free vendor showcase is open on Thursday and Friday. You can stop by anytime for as long as you like.  The vendor showcase is a great way to learn about new legal technologies and services in an exhibit hall featuring more than 100 companies.  You can see live demos of legal tech systems and equipment, not to mention pick up free pens and a few other useful gadgets.  The Techshow is also a good opportunity to learn more about alternative jobs available in the legal tech sector.