Chicago-Kent librarians will be traveling to speak at the 2017 annual CALI conference this week in Phoenix, AZ. Catch up on their topics here, find links to watch the livestream, or and follow along online via twitter at the #CALIcon17 hashtag if you want to join the conversation remotely!
The "Conference for Law School Computing" will be hosted at the Arizona State University Sandra Day O'Connor School of Law from June 14-15. Each year it includes a wide variety of speakers representing law schools and the legal tech companies that support us from around the country.
All sessions are being live streamed and recorded this year. The session pages will have a link for the live stream that will be replaced after the conference with a link to the recorded video when those are available.
2017 Chicago-Kent Presenters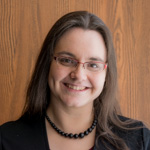 Emily Barney will be presenting "Visual Thinking: Strategies, Assets & Tools" on Thursday at 4pm (6pm Chicago time).
In this presentation, I'll showcase strategies, tools, and resources that can help novice designers look like an expert:

Visual strategies determine which types of visuals are the best match for your content and audience, from charts to maps to photos.
Free search tools and resources I rely on to find images and illustrations and licensing works with for free images.
The tools I use for design and editing files, including options that don't require installation or extensive training.
Jessica Frank, works for CALI and manages the A2J Author project. She will be presenting Web Development in an Outsourced Age: How CALI Partnered with Bitovi to Rewrite A2J Author with Mike Mitchell at 1pm on Thursday (3pm Chicago time).
This session will explore the process of integrating an outside development team into an existing software project. We'll explore how Bitovi used CanJS, a JavaScript architectural library, to move A2J Author away from a Flash code base, toward a more modular component based model that's easier to implement, re-use, and test. We'll talk about how we use tools like Github, Gitlab, Slack, Screenhero, Google Hangouts, and GoToMeeting to work with a team of developers all over the world and maintain a growing code base.
Debbie Ginsberg will be presenting "Blocked! What is Blockchain and what will it mean for the future of law?" on Thursday at 2:30 (4:30pm Chicago time).
In this session, I'll discuss the basics of blockchains, how the tool is being used today, and how this tool could be incorporated into the future of legal research and practice. Blockchains would be especially useful for authenticating state legal materials. I'll also showcase tools used to create and manage blockchains.Previous Years:
Earlier CK CALI Conference Presentations
The CALI conference presentations are archived on Youtube here where you can browse by year or find our individual presentations from previous years in these lists:
Jessica Frank Presentations: