Chicago-Kent's student organizations and journals are an excellent example of the diversity of both our legal programs and our student body. They also offer many events and opportunities for students to contribute to our community each year.
You can find a full list of student organization and journal websites together with the latest updates they've posted on this page:
Did you know that these student organization and journal websites are provided as a free service of the Chicago-Kent Library? The websites are hosted using WordPress to reduce the technical burden on our students and optimize their options for design and social sharing online.
Customized Designs
Each organization and journal can choose their own look and feel, but they have all been customized to include leadership profiles and event announcements. All designs are "responsive" so they can display on mobile devices as well as computer screens, as seen in this example from the new ACLU events page.
Leadership profiles can be a simple list of names, but some organizations also fill in these profiles with photos and biographies, providing an easy way to get to know their leadership and connect with alumni who were former leaders, as you'll find on the Criminal Law Society website: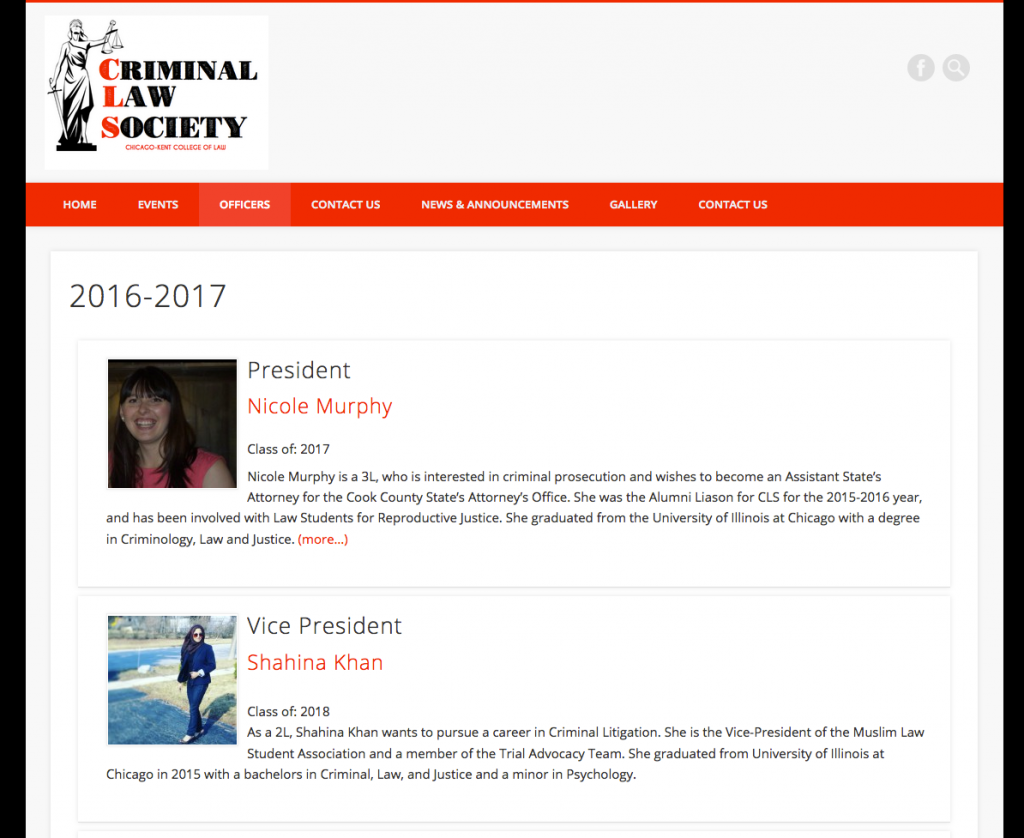 More Features:
The sites can also include blogs, if students want to publish regular updates, announcements, or topical pieces – the Chicago-Kent Journal of Intellectual Property has an active blog hosting student content.

You can also find our Journals on the Chicago-Kent Scholarly Commons Repository
Setup Process
Interested in setting up a student organization website? All organizations that have been officially approved by the SBA can contact Emily Barney to begin setting one up. Here are the basic steps in setting up a new website:
Provide core content: organization email address, list of leaders, short "about us" text, and advisor name. Emily will use this to set up a test site and provide you with training materials online or schedule an in-person demo if you prefer.
Your organization can review and customize the design of the test site, then notify Emily when it is ready. (Existing organizations can use those test sites to try out new designs or for transition training, if needed).
Emily will load the new website and provide editorial access to the organization leaders.