During the recent intersession, your librarians did not rest: we were active in several intersession courses, teaching research, explaining technology, and documenting your classes for social media.
ADR in the Workplace
Prof. Malin has taught this interactive simulation-based course since 2015.  The course is completely "flipped" – that is, students watch lectures outside of class, then use class time to solve problems based on what they learned.  In this simulation, the problems were labor and employment arbitrations and mediations.  Students had an opportunity to act as lawyers, clients, and arbitration judges.  One of our tech librarians helped to set up the videos, ensuring that students had access.  A research librarian also showed students how to research arbitrators for one of the assignments.
Strategic Problem Solving and the Law
In this intensive, week-long course students worked on four different legal simulations.  When the course was introduced several years ago by Professors Katherine Baker and Kari Johnson, students were given pre-made legal information packets.  In the real world, however, lawyers do their own research, so the librarians developed a legal research curriculum to fit the course.
This year, Research Librarian Scott Vanderlin taught students how to find jury verdicts to help calculate costs for negotiation.  He also showed students how to find business information, demonstrated how to use free and low-cost resources, and showcased powerful research tools from government websites.  Scott also discussed international and foreign law.  These sessions helped the students complete their assignments while introducing them to resources not usually encountered in other classes.
In recent sessions of this course, the librarians also introduced a technology component.  Educational Technology Librarian Debbie Ginsberg demonstrated various useful features of Word, including how to use styles and how to delete unnecessary metadata.  She also showed students how to organize groups of documents (e.g., administrative records) using Excel.
Other intersession classes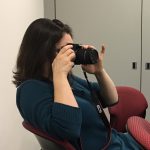 If you noticed a librarian with a camera in your intersession class, that was our resident photographer Emily Barney, Technology Development & Training Librarian.  Emily used the pictures on Chicago-Kent's social media (and this blog) and share the photos with our guest speakers.
Thank you Prof @IanTurvill of @ChicagoKentLaw for allowing me to speak on #Networking & #RelationshipBuilding.Excited to guest on Feb 22! pic.twitter.com/RzrGQhkPez

— Sales Results (@FretzinInc) January 16, 2017