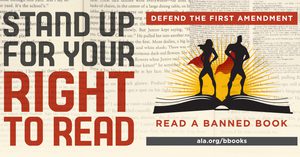 The ALA Banned Books Week website and lists give us a "big picture" view of how often specific authors and works are challenged in America, but the lists don't help us see how these challenges reflect larger issues in our society.  This year, the ALA is focusing on diversity issues present in banned books lists.
According to the BannedBooksWeek.org, "ALA's Office for Intellectual Freedom, has determined that 52% of the books challenged, or banned, over the past decade are from titles that are considered diverse content." (See "Why Diverse Books are Commonly Banned").
The ALA cites various reasons behind the ban attempts, ranging from concerns over sexual content to violence and offensive language. But after compiling a list of the most challenged books of 2015, officials at the ALA's Office for Intellectual Freedom noticed a pattern: nine of the 10 most targeted titles fell into the category of "diverse content," which the OIF has defined as "books by and about people of color, LGBT people, and/or disabled people."

Transgender issues feature prominently on the ALA's list of the top 10 most frequently challenged books of 2015. "I am Jazz" and "Beyond Magenta," two books that share the real-life experiences of growing up transgender, were both on the top half of the list.

Religion, specifically books featuring positive portrayals of Islam, was also a cause for concern among some would-be banners, according to James LaRue, director of the ALA's Office for Intellectual Freedom. The graphic novel "Habibi" received multiple calls to be banned from libraries across the country.
The ALA has published a list of "Frequently Challenged Books with Diverse Content."  This list includes popular titles like Beloved by Toni Morrison, Native Son by Richard Wright, and The Curious Incident of the Dog in the Night-Time by Mark Haddon.
Bookstores around the US will be holding Banned Books Week events on Tuesday, September 27.  Don't miss Banned Books Trivia at The Book Cellar in Chicago at 6 pm.
Want to stay informed about current book bans? Following the Office for Intellectual Freedom Blog is a great way to keep up: