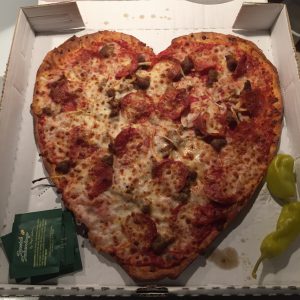 Four years ago, the library started something that became a tradition.  We ordered a few pizzas, picked up some beer, and opened the 10th floor event space to our 1L's.  We had an amazing turn out and a great time.  We got to know the students, the students met people from other sections, and no one went away hungry or thirsty.
I think the 1L pizza party has become an annual tradition because it brings our law school community closer.  Every law school has librarians.  We want to be the ones who know your name, know your research, and make your life easier.  We understand that you don't want to ask a stranger for help.  Once you've shared a beer with us, you won't be a stranger anymore!  And the party lets students from other sections get to know each other better.  You'll all be shuffled together next year, so you might as well start making a connection now.
So 1L's, please stop by the 10th floor event room (not the 10th floor of the library, this is Morris Hall, accessible from the main elevators) from 4:00-6:00pm this Thursday, September 22nd.  Come for the beer.  Stay to help continue a tradition of law school community.