It's hard to believe it's almost time for the fall semester to start!  Many faculty now make recordings and host them on our Panopto server.  These recordings might be an entire class, student performances, or even a short video to watch for homework.  You can view the videos online here.  But did you know you can also watch them on your mobile devices?
Panopto offers a mobile app for iPhones, iPads, and Android devices.  Once downloaded, it's easy to login and watch your videos.
Panopto App Setup
Set up the app by adding the host site (kentlaw.hosted.panopto.com):


Change the Account to KentlawADFS:


Login with your kentlaw email credentials:




Browse to the folder and video you wish to watch:

Press play: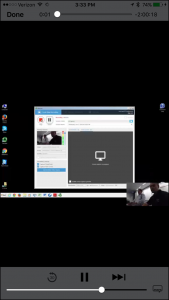 The app doesn't have all of the features of the web version (you can't take notes, for example), but it's very convenient for watching videos from anywhere.