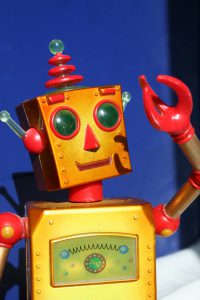 You may have read about the "Robot Lawyer" DoNotPay who can fix parking tickets (not in Chicago, sorry).  It sounds amazing, but the reality turns out to be quite simple.  The parking ticket regulations are pretty clear, and clients can get out of the ticket if they meet certain exceptions.  The "robot" asks a series of questions to determine if the client can meet any of those exceptions.
Is this the start of a new robot lawyer takeover?  Not exactly.  Products like these have been around for quite a while, answering all kinds of legal questions.  These "expert systems" ask clients a series of questions about their issue.  Based on a set of rules – or sometimes even sophisticated artificial intelligence – the systems then provide answers clients can use to resolve issues or even documents they can file in court.
One early example of an expert system is Chicago-Kent's and CALI's A2J Author software.  A2J Author was originally used to provide guidance for a simple divorce in Illinois.  Over time, CK students in the Justice and Technology Practicum have developed a variety of guided interview products, from discrimination complaint forms for the Illinois Department of Human Rights to child support documents for the California Administrative Office of the Court's Center for Families, Children & the Courts.
Some of these systems can directly resolve disputes.  On eBay, buyers and sellers can use an automated system to resolve disputes.  No one wants to go to court over a $100 sale.  This system provides a convenient alternative.  The company that made this system – Modria – now creates resolution systems for other companies and organizations.
Do these systems compete with lawyers?  Not really.  Some lawyers offer systems like these on their own websites.  Potential clients may find that their issue can be resolved quickly with the online system.  The lawyer doesn't make money, but now has a satisfied client who is likely to return.  Or clients may use the system to find that they need to hire a lawyer, something that's often easier to hear from an impassive website than from a live person.
If you'd like to see more examples, check out this site from Neotoa Logic, a company that specializes in software for legal expert systems.