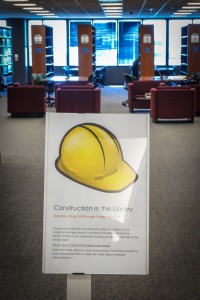 If you haven't visited our library since exams ended, you may be surprised to see the major changes that have occurred over the last few weeks. As our campus prepares to welcome the IIT Institute of Design to this building, two floors in the library have been cleared to allow them to create new flexible workspaces.
Reorganizing materials has been a complicated project, but with careful planning we have preserved access to the library's research materials and are working to maximize study space for our students as well.
Special services like the Media Room and the New Mothers room are located on the 8th floor and will not be affected by the change.
The microfiche storage from the 6th floor has been incorporated into an 8th floor study space. The Rare Books area on the 6th floor was relocated last summer as part of the archives move to the 985 suite.
Before & After – Images of the Move
This slideshow requires JavaScript.
Preparing the Collection
Librarians have been preparing for these changes since the beginning of the Fall 2015 semester. They started by identifying which volumes on the shelves were already duplicated in our online collections.
This was a simpler project for the sixth and seventh floors because of the types of collections they held. The 7th floor held primarily law reviews and journals, which were almost all already avail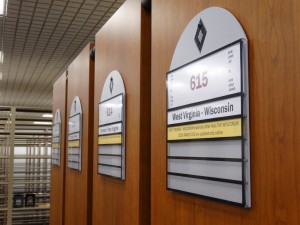 able through HeinOnline, Lexis, and Westlaw. The 6th floor held our state materials and other books.
Although most duplicated materials were identified quickly, librarians also reviewed the collection by hand to identify materials that we would need to move to other areas of the library, primarily the 8th floor.
The next step was to contact other legal research collections and companies to see how we could donate print materials for various preservation projects. Many of the volumes were accepted by PALMPrint, a "collaborative [..] project aimed at developing a shared, circulating collection of primary U.S. legal materials in print," while others will be sent to HeinOnline to supplement their scanning of historical legal materials.
Moving Process
With spreadsheets and maps carefully laid out by the Chicago-Kent librarians, professional movers began reorganizing the collections in May shortly after the end of exams. Items to be moved within the building were marked out separately, while items to be donated were prepared for removal from the building.
Library staff have followed through after the movers to remove the labelling system and perform our own quality control to review placement of the books.
What's Next
Over the summer, the 6th and 7th floor library spaces will be renovated for the IIT Institute of Design and the internal library elevator will only go between the 8th and 9th floors. A few more bookshelves will be moved on the 9th floor to make room for additional study tables.
We look forward to welcoming the Institute of Design and will cover their arrival (scheduled by August 1) and their interesting, varied work in later posts.