Ravel Law is a free tool for legal research (like Google Scholar and casetext).  Ravel Law has added a feature not found in most legal research resources –  analytics.  Ravel's Judge Analytics data provides detailed information about how individual judges think and rule on particular matters.  This tool recently won an award for best new product of the year.
The tool is powerful, yet very easy to use.  Users select a judge to research. Ravel can analyze that judge's opinions to discover:
Which opinions the judge cites most often (and the language cited from those opinions)
Which jurisdictions the judge cites most often
Which other judges the judge cites most often
Users can filter by keyword, motion type, topic, statute, or date range.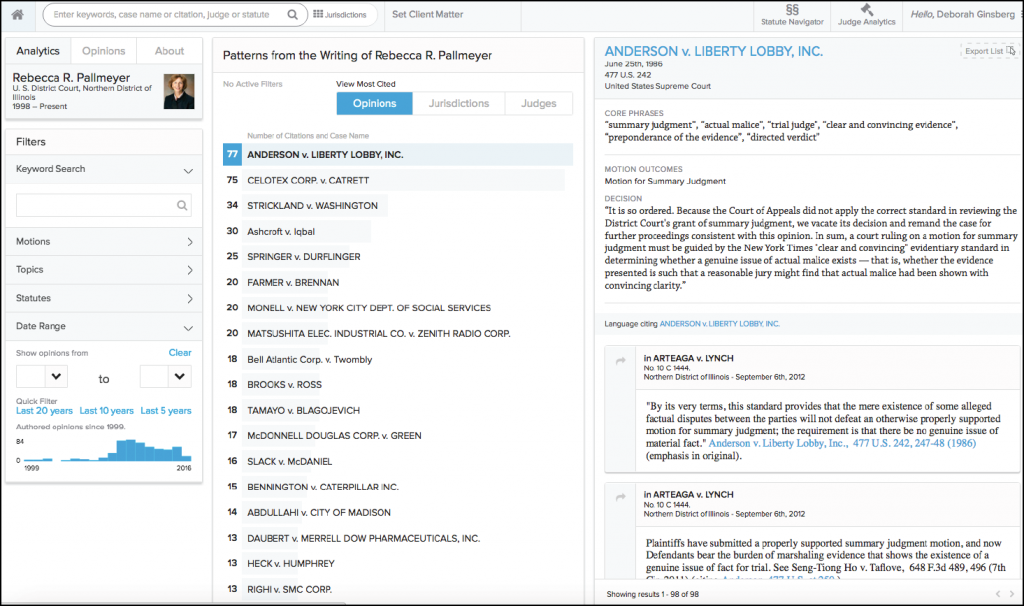 In addition, Users can research the opinions written by the judge.  These opinions can be listed by date or number of times cited.  Users can also export a report of these opinions.  Users can also find basic information about the judge, including past professional experience, education, and recent news.
Here is a short video overview.
But is this tool useful for law students?  One librarian noted that it can provide unique information:
Users can use it determine when a judge may look to law from an unexpected jurisdiction, to see when a judge demonstrates historical patterns on a subject or procedure, or to see which cases, rules, and exact language a judge may prefer and uses often. Judge Analytics currently covers all Federal Supreme, Circuit, and District Court judges.
The technology news site TechCrunch thinks law students can use it for class and career research (With Judge Analytics, Ravel Law Starts to Judge the Judges):
Just take a recent article [that Ravel] published on the top "rising star" judges that have recently been appointed to their positions. Using its citation data, the company investigated which judges are already having a disproportionate affect [sic] on the decisions of other judges. For students trying to find potential clerk roles, that information could transform a career.
To learn more:
If you are interested learning more about Ravel's Judge Analytics, contact Debbie Ginsberg at dginsberg@kentlaw.iit.edu.