One week in April brought us three book talks with authors discussing their latest works. The topics discussed at these events ranged from the looming crisis in personal savings and financial literacy to the role activists play in affecting constitutional law to a historical review of our first female U.S. Supreme Court justices.
Did you miss attending these events? I've summarized the discussions and Q&A from two events here and a video of the third event, along with links to help you borrow the books via libraries or purchase them online.
Empire of the Fund: The Way We Save Now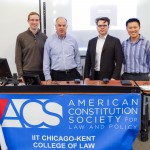 This event on April 11, 2016 was sponsored by the Chicago-Kent College of Law chapter of the American Constitution Society and featured our own Professor Birdthistle and John Rekenthaler, VP of Research for Morningstar. Professor Birdthistle recommended the Rekenthaler Report column as the "best word on mutual funds."
The Problem
Professor Birdthistle discussed the challenges and dangers that mutual funds present to lay investors, reviewing  changes to the "three legged stool" of savings that Americans have traditionally depended on: personal savings, pensions, and social security.
With personal savings decreasing, pensions disappearing, and social security shrinking rapidly, Professor Birdthistle emphasized the danger of assuming "everybody knows how to invest, they'll be fine!" – which he says is "a stretch" given our current state of financial literacy.

Possible Solutions
His book, forthcoming on June 29, 2016, offers several solutions to this looming crisis of personal financial stability and risky mutual funds:
Auto-enroll employees in 401K plans, don't require people to opt-in.

Require licensing to increase financial literacy with education & risk assessment.

Organize by giving more people access to the Thrift Savings Plan (the Federal 401K plan)

Enforce – the SEC has never brought a case against outrageous funds that abuse their customers. Though some settle out of court in private cases, the SEC currently relies on audits.
John Rekenthaler offered feedback on those solutions, agreeing that many would be more effective ways to deal with the current difficulties. He described other factors that are likely to affect many people, such as your 401K quality depending on the size of your employer and the lack of political motivation to implement improvements.
Q&A
Here are some of the questions and answers that followed the book discussion:
Q: What prevents small businesses from coordinating to offer better 401Ks?
A: Most small businesses don't have the time or expertise to analyze funds and rely on outsourcing. Identifying partners to collaborate with would require effort, and due diligence factor may also prevent this approach, though Vanguard is beginning to offer bundling options.
Q: If 401ks are not optimal, can employees opt out and do this on their own?
A: Yes! Most people don't even opt in, actually, which is a larger issue. An IRA is one method, but doesn't include employer matching and 401ks have higher limits for tax shelters. Still, recent lawsuits may be chipping away at the core concept of 401ks as a carefully curated list of selections for employees. In a recent suit against Deere & Co, a court allowed the "large menu" defense because employees had the option to go beyond the direct funds that were offered.
Empire of the Fund: The Way We Save Now
by William A. Birdthistle
Professor of Law, IIT Chicago-Kent College of Law
Oxford University Press
Forthcoming: June 29, 2016
not available through library systems yet
Pre-order on Amazon
"Engines of Liberty" with David Cole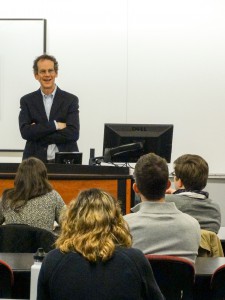 This event on April 12, 2016 was sponsored by the Chicago and Chicago-Kent College of Law chapters of the American Constitution Society. Professor David Cole has previously visited Chicago-Kent for a 2013 book talk and in 2007 when he was one of the recipients of the first Palmer Prize.
Professor Cole used the issues of marriage equality, gun rights, and human rights in the "war on terror" to investigate how activists have been able to enact changes to our constitutional law.
Example 1: Marriage Equality
Professor Cole described how Evan Wolfson began his activism fighting to even write a paper discussing the legality of the issue. From that early context, he and other organizations began their work with advocacy through state courts and media representation. 
The marriage equality legislative approach began with family law amendments, domestic partnerships, and anti-discrimination laws. The process often required dealing with local referenda and strategies that included positive examples in media representation and marketing campaigns featuring older straight allies expressing personal respect.
Example 2: Individual Gun Rights
Professor Cole described how Marian Hammer with the NRA has changed a common understanding that the 2nd amendment had nothing to do with an individual "right to bear arms" in the 1960s and before to a very different perspective today. 
While the NRA was originally founded by Union generals to offer training in marksmanship & gun safety, starting in Florida they have helped introduce a wide variety of new gun laws from "stand your ground," preemption, state amendments, and more.
One of the biggest areas that the NRA has used to promote a complete turn around in the concept of individual gun rights has come through funding scholarship in the legal academy. This work, along with high-profile members and supporters like John Ashcroft and Dick Cheney, has led to broad changes in policy across many forms of government that paved the way for recent U.S. Supreme Court interpretations of this issue.
Example 3: Human Rights & War on Terror
The activism on this issue started with a writ of Habeas Corpus for GTMO that they considered "completely hopeless, filed 100% on principle," then advanced through work with foreign populations, getting leaders like Tony Blair in the UK to change their position.
Framing these cases as a battle between the rule of law vs. unchecked power rather than an issue of national security alone paved the way for more opposition in Congress and among retired military officers. The release of images from Abu Ghraib while Supreme Court justices were asking questions about torture brought a quick turnaround in these policies.
Q&A:
Q: Professor Nahmod asked: is the NAACP work to desegregate schools a seminal example or unique? 
A: It was unusual for the federal court strategy, which was required because Southern states meant local solutions would be unsympathetic. But it definitely is a good example of the importance of working – outside the courts, to, how being present in the street & in the media is key.
Q: Professor Heyman asked about the paradox of activists representing democratic interests but judicial decisions applying to some places with the majority of people in opposition, such as with gay marriage. Does this prevent debate? Is it an unalloyed victory?
A: The recognition of constitutional rights does not end democratic debate: see pro-life advocacy and the ongoing battles at all levels to determine how this issue can be expressed and limited.
Q: Why did the right to marry go through before right to employment?
A: It's the opposite case than with racial discrimination, where anti-miscegenation took much longer to be removed. Marriage took on larger momentum as denial of marriage began to be seen as a denial of love. The Aids crisis revealed personal connection for many, but overall an appeal to love is very hard to demonize.
Q: Judicial Activism vs. Strict Constitutionalism: Original Intent?
A: wrote an essay on how Scalia was the "least influential influential justice" (because he was often not in the majority). Originalism by definition is not prescient, which he said makes it an "endangered species."
Conclusions:
Legal advocacy groups see the need for a variety of fronts. The last constitutional amendment, the 27th, passed in the 1980s but was first proposed in 1789, so clearly that's not the most efficient route.
There is power from understanding the democratic roots of constitutional law.
Armchair cynics are the most committed: if you get involved, you produce hope. We can all be agents of hope and constitutional law depends on our doing so. – David Cole
Engines of Liberty: The Power of Citizen Activists to Make Constitutional Law
Hon. George J. Mitchell Professor in Law & Public Policy, Georgetown University Law Center
Basic Books
March 29, 2016
Revolution at the Supreme Court
This event on April 12, 2016 was sponsored by the Chicago-Kent Institute on the Supreme Court of the United States. You can learn more about upcoming events and news from ISCOTUS by following their blog or their social media accounts on twitter or facebook.
Professor Chris Schmidt, Director of ISCOTUS, introduced Linda Hirshman as a lawyer, author, pundit and former Chicago-Kent professor. Her lively presentation is included as a YouTube video here:
Sisters in Law: How Sandra Day O'Connor and Ruth Bader Ginsburg Went to the Supreme Court and Changed the World
by Linda Hirshman
HarperCollins
September 1, 2015