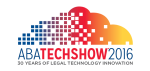 We hope you all are having an excellent spring break.  Many of you won't be back until next week, but if you are in town consider attending the ABA Techshow, right here in Chicago.  
This annual event features dozens of presentations on all kinds of legal technologies.  Attendees will learn how to use Microsoft Office efficiently, the role of encryption in law firms, social media best practices, and much more. The show is attended by lawyers from just about every type of firm, law firm IT staff, law faculty, and even law students.  
If you can't attend the whole show, but would like to learn more about the latest legal technology products, consider stopping by the show's free exhibit hall on Thursday or Friday. Vendors include legal research products you already know (like LexisNexis), software companies that offer firms resources to help them manage case and client information, and companies that are looking for new ways to practice law (e.g. a kind of "Uber" for contract review).  In the future, many vendors like these will be looking to hire lawyers, providing an excellent alternative career path.
You can also follow the Techshow on Twitter.  The hashtag is #ABATECHSHOW.
The Techshow starts on Thursday, March 17, and runs until noon on Saturday, March 19 (with a welcome reception the evening of March 16).  The show will be held at Hilton Chicago, 720 S. Michigan Avenue.  The cost is just $100 for students for the whole show.  Better yet, the exhibit hall is free.  Register here to attend.
And if you are available on Wednesday, there's a free bonus session: Chicago-Kent will be hosting a roundtable on teaching technology in law schools from 9 am to 12 pm (registration link – get a free lunch).  Speakers include deans and faculty from several law schools, including our own technology expert, Prof. Ronald Staudt.
Librarian Debbie Ginsberg will attend the entire event, and other CK staff also plan to be at the show as well.  We hope to see you there!  But if you can't make it, look for our wrap-up of the event in a later blog post.