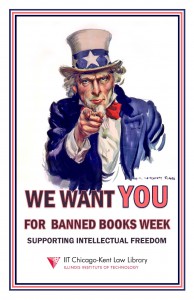 We want your book reviews! For Banned Books Week 2015 we want to show the value of intellectual freedom and celebrate the freedom to read within the Chicago-Kent community.
Send us your story of a banned book that has influenced you personally, perhaps one you loved growing up or one that challenged you with a new perspective. We'll be posting collections of these reviews from faculty, staff, and students on this blog from September 27-October 3.
'Not sure what you'd want to share? You can find examples of other staff and faculty contributions from previous years in our Banned Books Week archive.
You can send your reviews to us at library@kentlaw.iit.edu; use the subject line "Banned Books Review" and we'll post your contribution.
Banned Books Week 2015: September 27−October 3
Each year, the Office for Intellectual Freedom (OIF) of the American Library Association (ALA) records hundreds of attempts by individuals and groups to have books removed from library shelves and from classrooms.
Which Books Have Been Banned?
There are several different ways to calculate what are the "top banned books," but most rely on reports of formal challenges, which are documented requests to remove materials from schools or libraries, thereby restricting access to them by others.
How do I find a favorite banned book?
The OIF has been collecting data on book challenges only since 1990, but they've broken down their research into several different lists:
2014 Top 10

From the ALA, here are the top 10 banned books of 2014 – usually censored for challenging "traditional" politics, sexuality, or religion.  Some represent difficult situations or include "offensive language," and many are considered "unsuited for an age group" (even if they're picture books designed for young children).
 The Absolutely True Diary of a Part-Time Indian, by Sherman Alexie
Persepolis, by Marjane Satrapi
And Tango Makes Three, by Justin Richardson and Peter Parnell
The Bluest Eye, by Toni Morrison
It's Perfectly Normal, by Robie Harris
Saga, by Brian Vaughan and Fiona Staples
The Kite Runner, by Khaled Hosseini
Perks of Being a Wallflower, by Stephen Chbosky
A Stolen Life, Jaycee Dugard
Drama, by Raina Telgemeier
Top 10 Classics

Classics are also often targeted for their content and language. You can find a full list of frequently challenged classics on the ALA website or review the reasons why these classics are frequently challenged.
The Great Gatsby, by F. Scott Fitzgerald
The Catcher in the Rye, by J.D. Salinger
The Grapes of Wrath, by John Steinbeck
To Kill a Mockingbird, by Harper Lee
The Color Purple, by Alice Walker
Ulysses, by James Joyce
Beloved, by Toni Morrison
The Lord of the Flies, by William Golding
1984, by George Orwell
Lolita, by Vladimir Nabokov