Because you have spent the last several months studying, you may have forgotten how much fun there is to be had right here in Chicago, and some things are even free!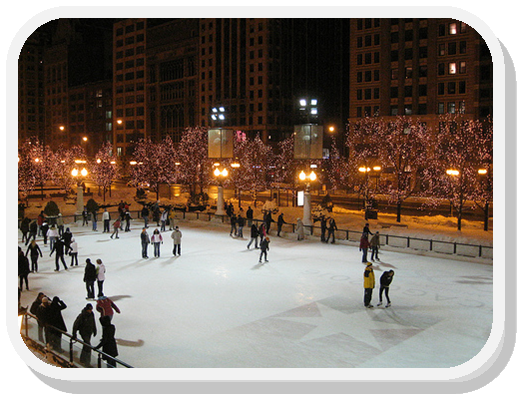 Attractions
Navy Pier Winter WonderFest—Winter festival on Navy Pier through January 11.  Includes mini golf, ice skating and the Toboggan Tunnel.  Tickets: $5 for admission and $25 for rides.
Millennium Park Ice Skating—Ice skate right in the heart of Chicago with a backdrop of the city's skyscrapers.  Free if you own your own ice skates—skate rentals are $12.
Free Fitness Week, Chicago Park District—January 2-11. Visit one of the 72 fitness centers located in Chicago parks and use equipment such as treadmills, cross trainers, stationary bikes, weights and more. Check out their website for information on group fitness.
Holidazed and Confused—Through December 29.  Featured on the main stage of Chicago's famous Second City comedy club, this show is a blend of Christmas scenes, songs and improv from the theater that gave us Dan Aykroyd, Gilda Radner, John Belushi, and many more of the most famous comedians of the last 50 years.
The Lincoln Park Zoo—Free Daily. During the holidays, the zoo presents ZooLights nightly from December 12–January 4 (Closed December 24 & 25).
Light displays throughout the zoo
Live ice carving
Holiday crafts
Delicious food, hot spiced wine, unique holiday shopping
Museums
Chicago is home to a number of world class museums, several of which have free days.  Please note that general admission usually will not include admission to special events and exhibits.
The Field Museum—Chicago's museum of science and natural history.  Don't miss Sue, the largest, best-preserved, and most complete Tyrannosaurus Rex ever found.  General admission tickets are $15 for students.  Free day: December 21.
The Museum of Science and Industry—At the largest science museum in the Western Hemisphere, enjoy live science experiences, tour a World War II sub, catch a big-screen film and more! Features "Christmas around the world" trees for the holidays.  $18 adult general admission.  Free days: weekdays in January starting January 5th.
The Art Institute of Chicago—Renowned art museum, featuring one of the world's foremost collections of impressionist and post-impressionist art. General admission is $17 for students.  Free days: Free to Illinois residents every Thursday evening from 5:00-8:00pm.
The Shedd Aquarium—Make connections with 32,600 animals, from whales to snails, from the world's fresh and salt waters.  General admission for adults is $8, but it does not include popular exhibits like the Oceanarium.  If you want to see the dolphins, it'll be $30.95.  Free days:  January 5-6, 12-13, 18-20.
Museum of Contemporary Art—One of the nation's largest facilities devoted to contemporary art. Offers exhibitions of painting, sculpture, video and film.  Student admission is $15 during the David Bowie Is… exhibit and $7 without admission to the exhibit.  Free days: Tuesdays for Illinois residents.
More free museum days off the beaten path
Charnley-Persky House Museum—A historical house in Chicago's Gold Coast, designed by Louis Sullivan and Frank Lloyd Wright. Free tours on Wednesdays at noon.
Clarke House Museum–"Chicago's Oldest House." Free Wednesdays.
Glessner House Museum–Famous Chicago landmark designed by Henry Hobson Richardson.  Free Wednesdays.
Jane Addams Hull House Museum–Famed settlement house founded in 1889 by Jane Addams. Free every day.
Loyola University Museum of Art–Located at Loyola's Water Tower Campus. Contains 8 exhibit galleries of art.  Free Tuesdays.
International Museum of Surgical Science—Museum about the history of anesthesia and surgical science.  Free Tuesdays.
The National Museum of Mexican Art—The first Mexican cultural center/museum in the Midwest and the largest in the nation. Free every day.

The Peggy Notebaert Nature Museum—Museum celebrating biodiversity and natural history. Free Thursdays for Illinois Residents.
Have fun!  Happy holidays and congratulations on finishing the semester!