Today we celebrate the 50th anniversary of The Beatles' arrival in America, to appear February 9 on The Ed Sullivan Show on CBS and to perform their first U.S. concert on February 11 at the Washington Coliseum.
More has been written about The Beatles' music and their effect on popular culture, but The Beatles have also had some impact on the course of law.  In fact, there are many different areas of law that have been affected by cases involving The Beatles.
There are many candidates among the cases as to which is the most well-known.  Certainly, the top two are probably The Beatles' company Apple Corps's trademark claim against Apple Computers.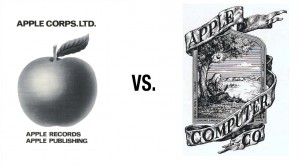 Or perhaps the copyright infringement claim brought by Bright Tunes (holder of the copyright for The Chiffons' "He's So Fine") against George Harrison for alleged infringement of the song via his "My Sweet Lord" (the first Billboard number one single for a solo Beatle).  Bright Tunes Music Corp. v. Harrisongs Music, Ltd., 420 F. Supp. 177 (S.D.N.Y. 1976).
George, though ultimately found guilty of "subconscious plagiarism," had his revenge of sorts by penning a minor 1976 hit, "This Song," which skewered the suit with lyrics such as, "This tune/has nothing Bright about it," and Monty Python's Eric Idle singing in the background, "Could be 'Sugar Pie, Honey Bunch'… no, sounds more like 'Rescue Me.'
(For an extensive account of this litigation, see Joseph C. Self, "The 'My Sweet Lord'/'He's So Fine' Plagiarism Suit."
A more recent case was litigated in England, between Sir Paul McCartney and his then-wife Heather (Mills) McCartney.  The divorce judgment (PDF) includes the following amounts claimed by Heather: £3.25 million per year for Heather and daughter Beatrice; plus various other amount dealing with real estate, amounting to a claim of £125 million (plus costs) (see ¶ 3).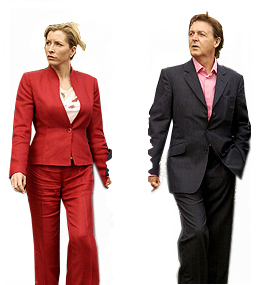 The justice ultimately awarded Heather less than one-fifth of that claim, about £24.3 million in cash and property (¶ 322).  Part of this result was determined by the justice finding Sir Paul a more credible witness:
"15. The husband's evidence was, in my judgment, balanced. He expressed himself moderately though at times with justifiable irritation, if not anger. He was  consistent, accurate and honest.
"16. But I regret to have to say I cannot say the same about the wife's evidence. Having watched and listened to her give evidence, having studied the documents, and having given in her favour every allowance for the enormous strain she must have been under (and in conducting her own case) I am driven to the conclusion that much of her evidence, both written and oral, was not just inconsistent and inaccurate but also less than candid. Overall she was a less than impressive witness." (¶¶ 15-16).
Though getting "only" £24.3 million (about $39.6 million in 2014 dollars), the judgment was still among the highest ever awarded in an English divorce proceeding (though The Guardian reported that private divorce settlements had reached as high as £100 million).

Want more of these?  Leave a comment and look forward to a future "The Beatles and the Law" post.
Tom Gaylord
Research Librarian