This year marks the 125th Anniversary of the founding of the Chicago College of Law–a forerunner of what would eventually become the IIT Chicago-Kent College of Law.  To commemorate this occasion, the school has put together an array of events, publications and displays to highlight both the changes that the school has undergone in the last 125 years, and the individuals who have participated in its growth and development.
One project that the library had a prominent hand in developing is an archival collection of Chicago-Kent photographs and documents from various stages in the school's history.
For this display, librarians sorted through the school's archives and picked out a selection of photographs and documents that illustrate key changes that the school has undergone throughout the years.
The collection includes selections from The Transcript–the yearbook of Chicago-Kent College of Law.  The selection chosen for display includes team photos of the 1924-25 Chicago-Kent baseball and basketball teams:
Also included in the display are images of the buildings that have housed the school at various times in its history: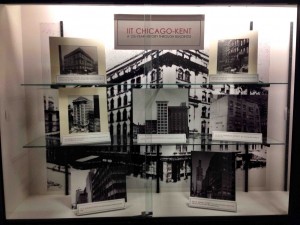 Stop by the display case on the south end of the 5th floor to see the full collection, and to explore the evolution of Chicago-Kent through the years!