Whether you are studying for the bar exam, an 'early-starter' 1L taking Criminal Law this summer, or anyone else living in Chicago, we hope you'll find some time to enjoy Chicago's many summer treats. One of the best right now is an exhibition at the Art Institute of Chicago (AIC) that opened June 26th and will be on view through September 22nd.
An inspired group of curators has put together a stunning display entitled Impressionism, Fashion & Modernity, which examines the relationship between art and fashion from the mid-1860s through the mid-1880s, when Paris was the fashion capital of the world.
The exhibition features 75 major paintings by Caillebotte, Degas, Manet, Monet, Renoir, and Seurat, who captured trends in fashion just as they captured modern life in their paintings. There are a number of period costumes displayed alongside the paintings that show how women and men dressed in those early days of the fashion industry. The exhibition was first shown at Paris's Musee d'Orsay, then New York's Metropolitan Museum. This is the last stop, so give yourself a break from all that studying to enjoy this homage to beauty.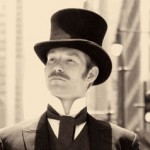 If you can't find time to visit the exhibit this weekend, you can take a quick study break anytime by visiting the amusing fashion blog written by "JEAN-PAUL BRUNIER: 19th-Century Parisian", full of witty commentary on contemporary Chicago fashion.
---
Keith Ann Stiverson
Library Director