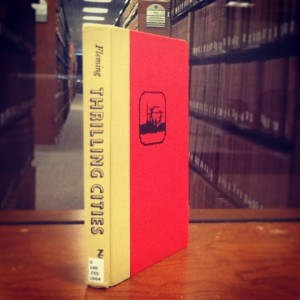 Ian Fleming, the creator of James Bond, is better known for his tall tales, but did you know he also wrote non-fiction? I really enjoyed a recent afternoon with Ian Fleming's "Thrilling Cities," a collection of his travel writing on 14 major cities in Europe, the US and Asia.
This fascinating title was donated to the library by Professor Fred Bosselman, and we are happy to have it included in our collection.
Fleming wrote these thirteen essays for the Sunday Times of London in 1959 and 1960, noting that he deliberately focused on " the bizarre and perhaps the shadier side of life." Fleming liked to wander back alleys, and his essay about Chicago is perhaps too full of references to the infamous mob murders in the city (sigh…), but it is also fun to read his description of the then-new Playboy Club and his rundown on the best restaurants and hotels. Fleming finally shows good taste in his rave review of the Art Institute, which he calls "my favourite picture gallery in the world," so perhaps we can forgive him the lurid references to Al Capone.
You can find this book on the 8th floor at call number G140.F55.1964. There are other unexpected treats like this in our law library. I will try to point out more of them to you this summer in the hope that you'll take time to read something besides your casebooks!
Keep in mind you can always find our curated collection of Law and Popular Culture titles at the service desk or make your own recommendations for that collection.
---
Keith Ann Stiverson
Director of the Library