The Supreme Court heard oral argument in two cases on October 7, 2014. I'm predicting the winners of the cases based on the method of question counting—i.e., the advocate that receives more questions during oral argument is more likely to lose. For more about this method, see my post on last Term's Aereo case.
The first case may be too close to call. In Dart Cherokee Basin Operating Company, LLC v. Owens, the Court considered whether a defendant seeking removal to federal court is required to include evidence supporting federal jurisdiction in the notice of removal, or whether it is enough to allege the required "short and plain statement of the grounds for removal." The Petitioner Dart Cherokee received 48 questions, three fewer than the Respondent Owens, who received 51 questions. The total question count is favorable to the Petitioner. But if you look at the questions per Justice, five of the Justices (Roberts, Scalia, Kennedy, Sotomayor, and Kagan) asked more questions to the Petitioner. Three other Justices (Ginsburg, Breyer, and Alito) asked more questions to the Respondent.   The individual question count by Justice might suggest a favorable outcome for the Respondent. This case is a toss-up.
Figure 1.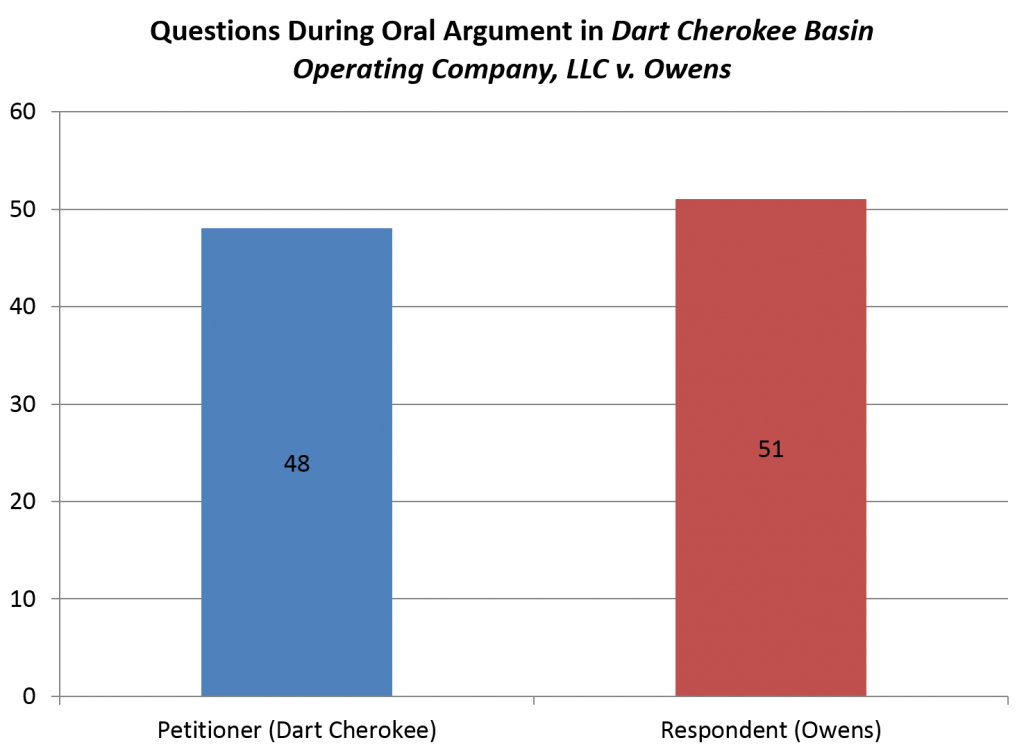 The second case is easier to predict. In Holt v. Hobbs, the Court considered whether the Arkansas Department of Corrections grooming policy violates the Religious Land Use and Institutionalized Persons Act of 2000, 42 U.S.C. § 2000cc et seq., to the extent that it prohibits petitioner from growing a one-half-inch beard in accordance with his religious beliefs. The Respondent Hobbs, Director of the Arkansas Department of Corrections, received twice as many questions (52) as the Petitioner (23)—and seven more questions than the total number for the Petitioner and U.S. Solicitor General (who supported the Petitioner's position) combined. The question count strongly suggests a victory for the Petitioner Holt.
Figure 2.