The Supreme Court heard oral argument in two fairly technical cases on Monday, one involving the Tax Injunction Act and the other involving the Passenger Rail Investment and Improvement Act of 2008. I'm predicting the winners of the Supreme Court cases based on the number of questions asked during oral argument. For more about this method, see my post on last Term's Aereo case.  For all of my predictions this Term, click here.
The first case, Direct Marketing Association v. Brohl, asks whether the Tax Injunction Act, which provides that "[t]he district courts shall not enjoin, suspend or restrain the assessment, levy or collection of any tax under State law where a plain, speedy and efficient remedy may be had in the courts of such State," bars federal court jurisdiction over a suit brought by non-taxpayers to enjoin the informational notice and reporting requirements of a state law that neither imposes a tax, nor requires the collection of a tax, but serves only as a secondary aspect of state tax administration.
This case is easy to predict. The Court asked the Petitioner only 36 questions and the Respondent 54 questions, a differential of 18 questions. The disparity in questions strongly suggests a win for the Petitioner (Direct Marketing Association).
Figure 1.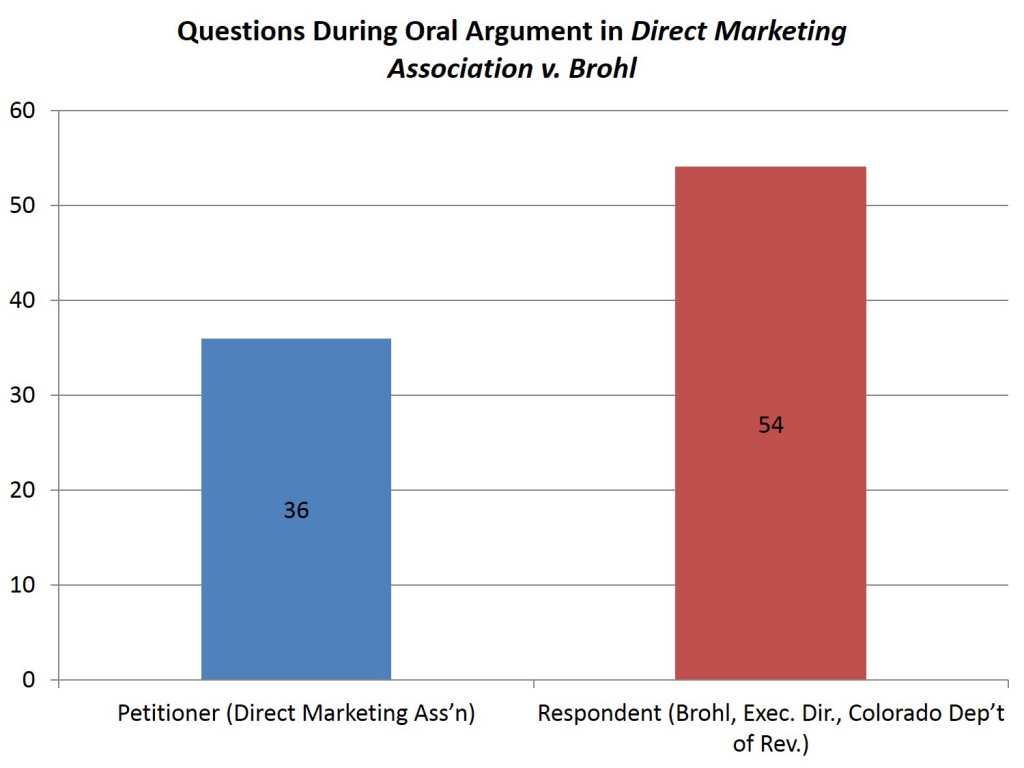 The second case, Department of Transportation v. Association of American Railroads, asks whether Section 207 of the Passenger Rail Investment and Improvement Act of 2008, which requires the Federal Railroad Administration (FRA) and Amtrak to "jointly . . . develop" the metrics and standards for Amtrak's performance that will be used in part to determine whether the Surface Transportation Board (STB) will investigate a freight railroad for failing to provide the preference for Amtrak's passenger trains that is required by federal law, and provides for the STB to appoint an arbitrator if the FRA and Amtrak cannot agree on the metrics and standards within 180 days, effects an unconstitutional delegation of legislative power to a private entity.
This case is closer, but I predict a win for the Respondent (Association of American Railroads). The Court asked the Petitioner 49 questions, 6 more than asked of the Respondent. The Justices appear to be divided along ideological lines. Three Justices asked the Petitioner more questions: Roberts (+13), Scalia (+9), and Kennedy (+5). Four Justices asked the Respondent more questions: Ginsburg (+3), Breyer (+12), Sotomayor (+6), and Kagan (+2). Justice Alito asked both sides one question, and Justice Thomas asked no questions. If the ideological pattern holds, I expect Justices Alito and Thomas to side with the Respondent as well.
Figure 2.