The Supreme Court heard oral argument in two cases on Tuesday, one involving trademark law and the other, criminal law. I'm predicting the winners of the Supreme Court cases based on the number of questions asked during oral argument. For more about this method, see my post on last Term's Aereo case.
B&B Hardware, Inc. v. Hargis Industries, Inc. asks (1) whether the Trademark Trial and Appeal Board's finding of a likelihood of confusion precludes respondent from relitigating that issue in infringement litigation, in which likelihood of confusion is an element; and (2) whether, if issue preclusion does not apply, the district court was obliged to defer to the Board's finding of a likelihood of confusion absent strong evidence to rebut it.
This case is easy to predict. The Court asked the Respondent (Hargis Industries) 54 questions, 24 more than asked of the Petitioner (B&B Hardware) and the Solicitor General (as amicus curiae supporting the Petitioner) combined. This may well be the largest disparity in questions I've seen in a case. [UPDATE: M&G Polymers v. Tackett did have a larger differential of 27 questions.]
The large question disparity strongly suggests a win for the Petitioner, who argued for reversal of the Eighth Circuit's decision and failure to apply issue preclusion, in a subsequent infringement action, to the Trademark Trial and Appeal Board's finding of a likelihood of confusion during an opposition proceeding. The Solicitor General supported the Petitioner's view. Reversal appears to be likely.
Figure 1.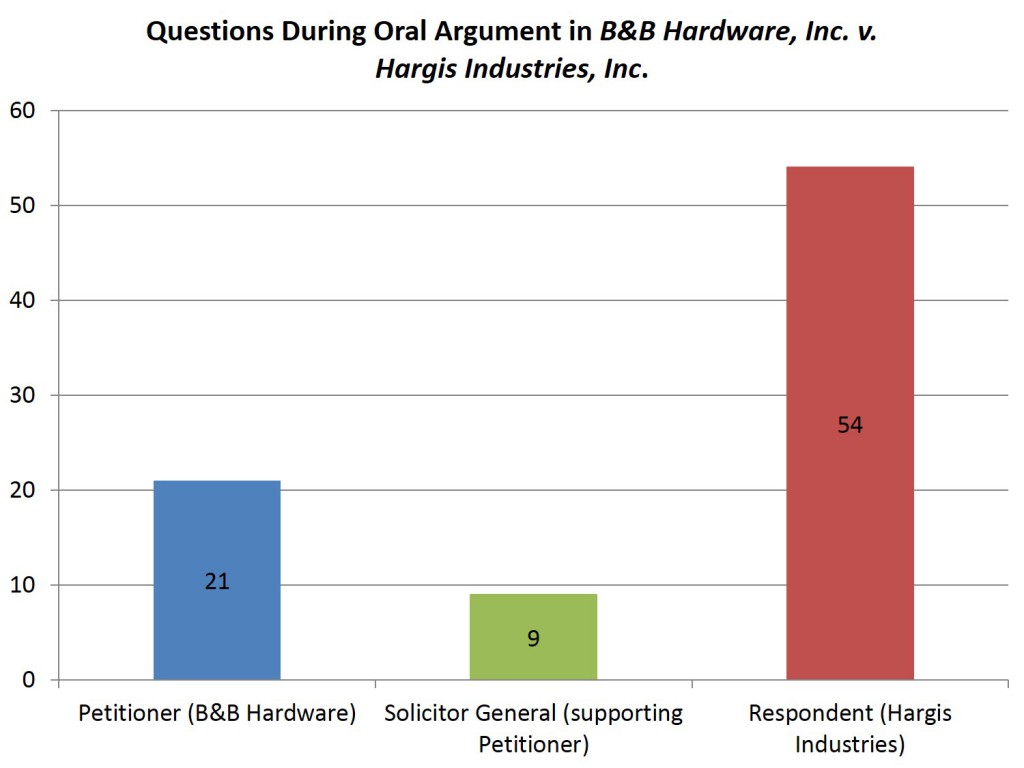 The second case, Whitfield v. U.S., asks whether 18 U.S.C. § 2113(e), which provides a minimum sentence of ten years in prison and a maximum sentence of life imprisonment for a bank robber who forces another person "to accompany him" during the robbery or while in flight, requires proof of more than a de minimis movement of the victim.
Although the question count is close, my prediction is a win for the Respondent (Solicitor General), who argued for the affirmance of the Petitioner's conviction. The Court asked the Petitioner (Whitfield) 6 more questions (see Figure 2). This overall figure, though, is somewhat inflated by Justice Scalia's 18 questions, an unusually high number for a Justice to ask one party. But the question count by Justice also favors the Respondent. Five Justices asked the Petitioner more questions: Scalia (+14), Kennedy (+1), Ginsburg (+4), Alito (+5), and Sotomayor (+3). By comparison, three Justices asked the Respondent more questions: Roberts (+14), Breyer (+3), and Kagan (+4). My confidence level is not high, given the small differences, but it's higher than it was for yesterday's Elonis case. I give a slight nod to the Solicitor General.
Figure 2.