On Tuesday, the Supreme Court heard oral argument in two consolidated cases related to the treatment of underwater mortgages in bankruptcy.  I'm predicting the winners based on the method of counting up the number of questions.
Bank of America NA v. Caulkett asks "whether, under Section 506(d) of the Bankruptcy Code, which provides that '[t]o the extent that a lien secures a claim against the debtor that is not an allowed secured claim, such lien is void,' a Chapter 7 debtor may 'strip off' a junior mortgage lien in its entirety when the outstanding debt owed to a senior lien-holder exceeds the current value of the collateral."
Figure 1.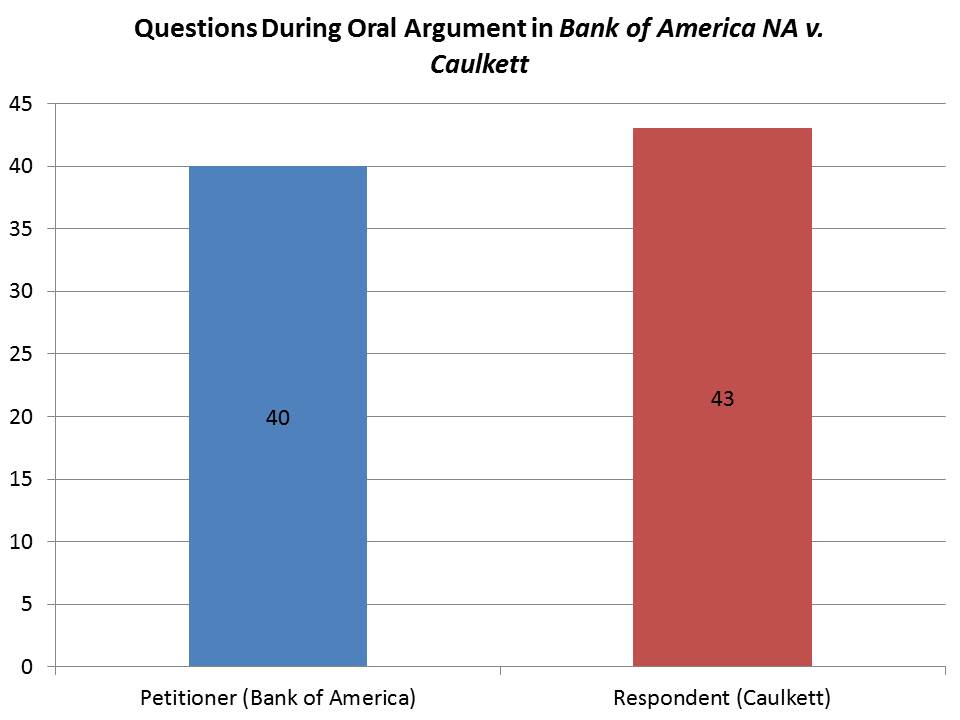 As Figure 1 indicates, the total question count was very close. The Petitioner (Bank of America) was asked 40 questions, while the Respondents were asked 43 questions.  That's a small differential.
The question count by Justice was also very close.  Three Justices asked the Petitioner more questions: Justices Scalia (+6), Kennedy (+2), and Ginsburg (+3).  Three Justices asked the Respondent more questions: Justices Breyer (+8), Sotomayor (+4), and Kagan (+2). Chief Justice Roberts asked the same number of questions (2), as did Justice Alito (1).
It's a toss-up.  But I'll go with the Respondents, given the possible conservative alignment. It's just a hunch–the numbers are too close to call.