The Supreme Court held only one oral argument on Monday.   I'm predicting the winners based on the method of counting up the number of questions.  After a very successful start of the Term (7 of 9 correct in the first month), my prediction percentage has slipped considerably to 52%,  so you should take everything with a grain of salt.
The case Brumfield v. Cain asks (1) whether a state court that considers the evidence presented at a petitioner's penalty phase proceeding as determinative of the petitioner's claim of mental retardation under Atkins v. Virginia has based its decision on an unreasonable determination of facts under 28 U.S.C. § 2254(d)(2); and (2) whether a state court that denies funding to an indigent petitioner who has no other means of obtaining evidence of his mental retardation has denied petitioner his "opportunity to be heard," contrary to Atkins and Ford v. Wainwright and his constitutional right to be provided with the "basic tools" for an adequate defense, contrary to Ake v. Oklahoma.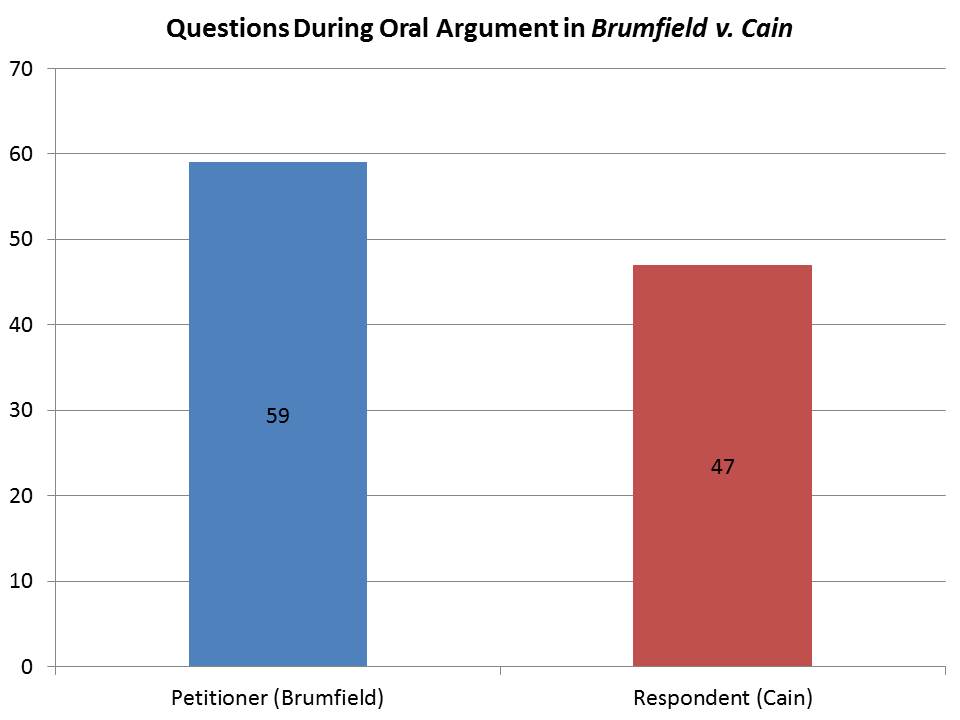 As Figure 1 indicates, the total question count favors the Respondent (Cain).  The Court asked the Respondent 12 fewer questions: 47 questions total compared to 59 questions to the Petitioner (Brumfield).   It's a modest differential, but still a significant one compared to many of the other cases.
The question count by individual Justice also favors the Respondent.  Five Justices asked the Petitioner more questions: Roberts (+4), Scalia (+1), Kennedy (+8), Sotomayor (+3), and Alito (+6).  Three Justices asked the Respondent more questions: Ginsburg (+3), Breyer (+4), and Kagan (+4).  The numbers suggest alignments along ideological lines.  Even if Justice Sotomayor sides with the other liberal Justices, the conservative Justices appear to have enough for a majority.
Based on these numbers, I'll predict a victory for the Respondent.