The Supreme Court heard oral argument in two cases on Wednesday, one involving the Pregnancy Discrimination Act and the other involving trademark law. I'm predicting the winners of the Supreme Court cases based on the number of questions asked during oral argument. For more about this method, see my post on last Term's Aereo case.  For all of my predictions this Term, click here.
Young v. UPS asks whether, and in what circumstances, the Pregnancy Discrimination Act, 42 U.S.C. § 2000e(k), requires an employer that provides work accommodations to non-pregnant employees with work limitations to provide work accommodations to pregnant employees who are "similar in their ability or inability to work."
This case is difficult to predict. The Court asked the Petitioner (Young) 28 questions and the Solicitor General (as amicus curiae supporting the Petitioner) 16 questions. The Court asked the Respondent (UPS) 42 questions, 2 fewer than the Petitioner's side. However, that differential is almost negligible, given that in several instances I had to make judgment calls on how to count questions that were interrupted by the advocate or another Justice. In other words, the total number of questions asked per side was a virtual tie.
The question count per Justice provides a more interesting picture. Five Justices asked the Petitioner's side (including the Solicitor General) more questions: Roberts (+2), Scalia (+14), Kennedy (+7), Breyer (+6), Sotomayor (+2).
Three Justices asked the Respondent more questions: Ginsburg (+13), Alito (+1), and Kagan (+15). In fact, Justices Ginsburg and Kagan asked 74% of all questions asked of the Respondent. Meanwhile, Chief Justice Roberts and Justice Kennedy asked the Respondent no questions, while Justices Scalia and Sotomayor asked only 1 question to the Respondent.
The pattern suggests a possible split along conservative and liberal lines. If I had to make a prediction based on these numbers, I would give a slight nod to the Respondent (UPS), which argued for an affirmance of the Fourth Circuit's decision upholding the grant of summary judgment against the Petitioner on her claim under the Pregnancy Discrimination Act. But my confidence level is not high on this prediction.
Figure 1.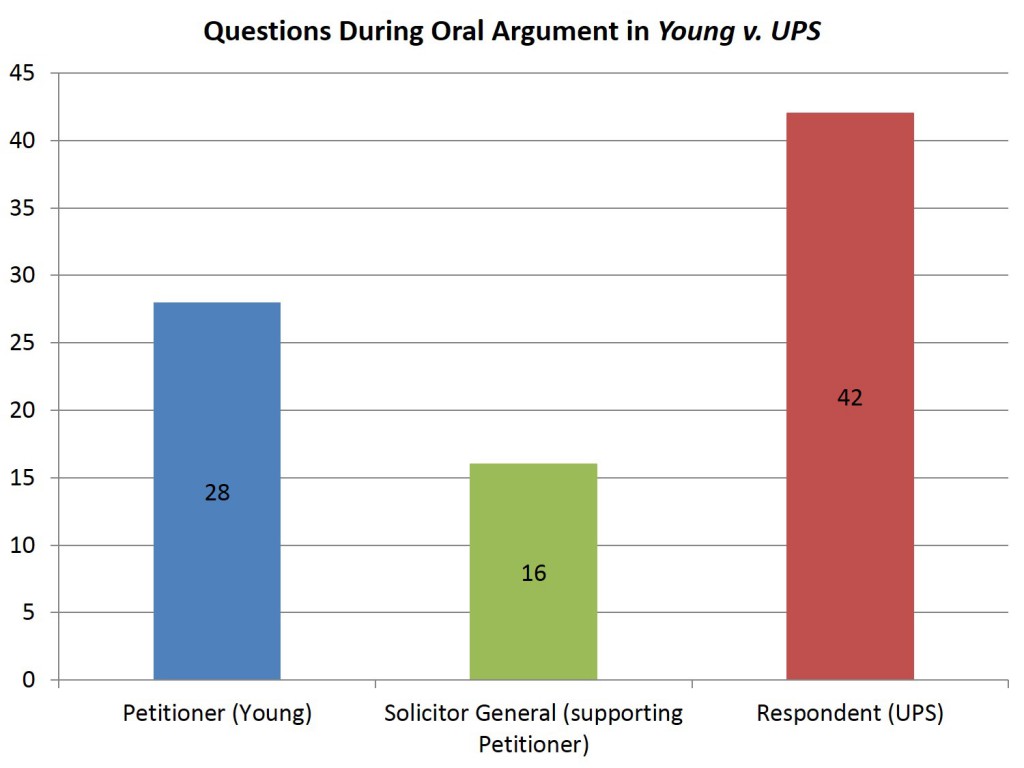 The second case, Hana Financial v. Hana Bank, asks whether the jury or the court determines whether use of an older trademark may be tacked to a newer one.
This case is much easier to predict. The Court asked the Petitioner 35 questions, 14 more than asked of the Respondent and the Solicitor General (supporting the Respondent) combined. The question disparity indicates a win for the Respondent (Hana Bank), which argued for an affirmance of the Ninth Circuit's treatment of the issue of tacking as a question of fact for the jury. The Solicitor General generally supported that view. An affirmance appears to be likely.
Figure 2.