Last Monday, the Supreme Court began its 2019-2020 term. Early in its history, the Court typically had two annual sessions with various starting dates, but since 1917, Congress has set the first Monday of October as the opening of the Court's annual term.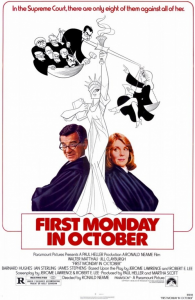 In 1978, a play that imagined the first woman appointed to the Supreme Court entitled "First Monday in October" opened on Broadway. The play was turned into a film by the same name, which was scheduled for release in 1982.  The release date was moved up to August of 1981 to coincide with the real-life appointment of the first female justice, Justice Sandra Day O'Connor, who joined the Court in September 1981.
A tradition connected with the beginning of the Court's term is the Red Mass at the Cathedral of Saint Matthew of the Apostle and sponsored by the John Carroll Society. Taking place on the Sunday before the opening of each term for the past 67 years, the purpose of the mass is to bless the attending justices, members of the legal profession, and public officials before the beginning of the new Supreme Court term. The tradition of the Red Mass goes back to medieval Europe and is named for the garments worn by royal judges.  This year, three justices—Chief Justice Roberts and Justices Breyer and Thomas—attended. The record for attendance of Supreme Court justices is six, which occurred in both 2009 and 2012.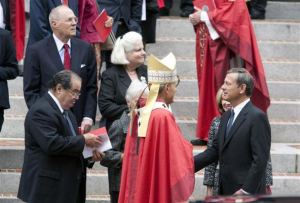 While some traditions go back decades, others are just beginning. This Term the Court has implemented a new policy of giving advocates two uninterrupted minutes of argument time before asking questions. Justices in recent years have been in the habit of allowing lawyers only a few seconds before interrupting them with questions. The new policy will allow lawyers to know they will have at least two minutes to craft their opening statements. In the first argument under this new policy, Justice Ginsburg wasted no time and asked the first questionof the day as soon as the white light signaled the introductory two minutes had expired.
This Post was Written by ISCOTUS Fellow James O'Brien, Chicago-Kent Class of 2021, and edited by ISCOTUS Co-Director and Chicago-Kent Faculty Member Christopher W. Schmidt.