Michael McGee gained an early introduction to Chicago-Kent and Chicago's legal community through the PLUS program as an undergraduate student. As a law student, he quickly found ways to engage in programs that fit his goals. We're glad he also finds time to share his skills as a Student Advocate and a leader of our Student Bar Association.
Student Profile
Class year: 2020
Division: Full-time day
Hometown:  Detroit, Michigan
Academic Background: B.A. in Political Science & Government from Hampton University
Social media: LinkedIn
What stood out about Chicago-Kent when you were looking at law schools?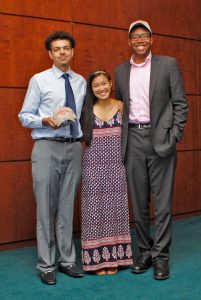 During the summer of 2016, I was a student in Chicago-Kent's Pre Law Undergraduate Scholars Program. That program gave me insight into Chicago-Kent and the overall legal practice in Chicago.
After that summer, I knew this was a place I could truly grow as a law student and potential young attorney.
Excited to report that our PreLaw Undergraduate Scholars Pgm has received a $102K @AccessGroup grant! Learn more: https://t.co/hOlIl4yQ3S pic.twitter.com/QOTRYJJ98L

— Chicago-Kent Law (@ChicagoKentLaw) November 19, 2016
At Chicago-Kent
Judicial Extern, Circuit Court of Cook County
Summer Law Clerk, Cook County Office of the Public Guardian
Are you focusing your studies on a particular area of law or pursuing a certificate? If so, what?

I am a student in Chicago-Kent's Labor and Employment Certificate Program. Being a part of this certificate program has provided me with a whole new support system, specifically in the faculty. They work tirelessly not just as professors but also as mentors to ensure that students in the certificate program go into legal practice fully prepared.
What programs or opportunities have surprised you at Chicago-Kent?
My experience on Chicago-Kent's Trial Advocacy Team has been amazing. I've only been to one competition so far, but being a part of this team has truly enhanced my overall advocacy skills and given me a platform to put these skills to use in the courtroom. Along with those hard skills, I've built invaluable bonds with my teammates and coaches.
Good luck to the trial team of Annisha Arnold, Felicia Thomas, Michael McGee and Shayl Wilson when they compete this weekend in the 2018 Queens County District Attorney's Mock Trial Competition in Queens, NY! https://t.co/IOvefGAzaS pic.twitter.com/rbWYxF7j37

— Chicago-Kent Law (@ChicagoKentLaw) October 26, 2018
Student Leadership
What made you want to get involved in these roles?
The Student Bar Association is the foundation and support system for many of the student organizations here at Chicago-Kent. Even though I was not involved in SBA my first year, I knew that being a part of that foundation was something I aspired to, and with the support of my classmates, I was able to achieve. Some days the workload makes me regret it (totally joking), but I honestly do appreciate the opportunity to support my classmates in their respective endeavors and see them all prosper.
https://www.instagram.com/p/BlgAhy_nqQD/
Read a short post from our Admissions Blog about 2L Michael McGee's experience at the recent Law School Admissions Forum in Washington, D.C. Please retweet if you know anyone who's interested in #lawschool or learning more about Chicago-Kent. https://t.co/mjzg05UcAa pic.twitter.com/wlMkvbgM57

— Chicago-Kent Law (@ChicagoKentLaw) August 6, 2018
Beyond Law School
What do you do to relax outside of school?
I'm a movie buff, so I go to the Showplace ICON for their $5 movie Tuesdays. I mainly go in the summer because that's when I have more time, but going to the movies is one of my main stress relievers.
Another one that I've recently picked up is axe throwing! There are a few locations around Chicago that have this, but it's essentially going to a warehouse and throwing an axe into a wall. Its a unique and efficient stress reliever to say the least.
What neighborhood do you live in? What do you like about it?
I live in the Hyde Park area. My apartment is close to Lake Shore Drive, so down the street from me is an array of walking trails, beaches, and parks. Along with its coffee shops, clubs, and other attractions, Hyde Park is its own community, and you'll rarely get bored there.