Cristina McNeiley was drawn to the legal profession by her powerful personal story and desire to make a difference. As a student, she is already giving back through her leadership roles in several organizations. In this profile, she shares the resources and skills she's using to build her career and the ways she looks forward to creating opportunities for other women with similar backgrounds.
Student Profile
Class year: 2020
Division: Full-time day
Hometown: Hammond, IN
Academic Background: BA in Criminology from Butler University, graduated with High Honors and minors in Spanish and Art+Design
Social media: LinkedIn
What drew you to the legal profession and law school?
My introduction to the legal profession was unlike many of my peers. My parents had me when my father was 15 and my mother had just turned 18. Two weeks after I was born, my father was tried as an adult and sentenced to 6 to 15 years in prison. My mother always tells me the story of how the prosecuting attorney came up to her after my father was sentenced, looked down at me in her arms and said, "future gangbanger."
As I grew older, I always kept that story in the back of my head. I wanted to see what the "other side" of the legal profession looked like and to change my idea of what a lawyer was. I also wanted to make a difference.
Latinas are completely underrepresented in the legal profession. Latinas compromise only 1.9 percent of law associates and 0.4 percent of partners in law firms. I wanted to prove wrong any individual that has ever doubted me, but more importantly, I want to show younger generations of women of color with backgrounds similar to mine that if I could make it here, they could too.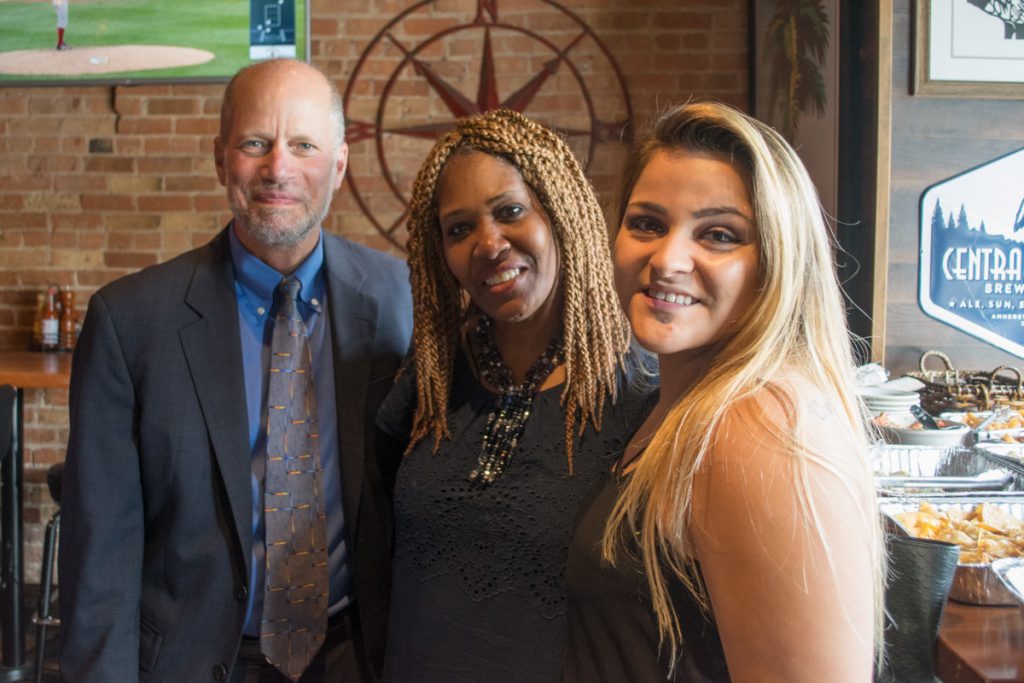 What stood out about Chicago-Kent?
I was born in Chicago and was raised throughout the city for the first couple of years of my life. With my parents living about 35 minutes from downtown, I knew that I always wanted to come back to Chicago. One of the greatest things about Chicago-Kent is that it is really located in the heart of the city.
Additionally, I had the opportunity to take part in the 2016 Pre-Law Undergraduate Scholars (PLUS) Program. During the program, I spent three weeks at Chicago-Kent and took classes as if I were a 1L student. Through this experience, I was able to build connections with the school faculty and staff.
When it came to applying to law schools, I always thought about how Chicago-Kent saw my potential and believed in me from the very beginning.
Legal Experience:
Judicial Extern, United States District Court of the Northern District of Illinois
Summer Associate, Barnes & Thornburg LLP
Student Worker, Indiana Legal Services
Congratulations to 1L Cristina Alma McNeiley, who has been awarded a 2018 Diversity Scholarship from Barnes & Thornburg LLP! Later this year, she'll participate in the law firm's summer associate program. Read more about Cristina Alma: https://t.co/bGa9zPv4J5 @BTLawNews pic.twitter.com/WqY0HQMUi4

— Chicago-Kent Law (@ChicagoKentLaw) March 26, 2018
Cristina shared her goals in the Barnes & Thornburg "All In" publication in September 2018:
Do you have a favorite professor or class that has confirmed or changed your goals about studying law?
Professor Felice Batlan's Contracts class has certainly had a major impact on me and my legal education. Most formative were her individual office hours, where she allowed me to ask questions about the course as well as questions about being a woman in the legal profession.
What inspires me about Professor Batlan is that the questions she brings forth in class allow students to become better critical and analytical thinkers. She isn't afraid to try new things in teaching, and she truly cares about her students. It was with the help of Professor Batlan that I grew more confident in my abilities as a law student.
Are you focusing your studies on a particular area of law or pursuing a certificate?
For as long as I could remember, I knew I wanted to be a litigator. I just never knew what I wanted my specific practice area to be. Now I can say with confidence that I want to concentrate my practice on commercial litigation as well as labor and employment law.
In order to better understand the complexities of labor and employment law, I am currently a part of Chicago-Kent's Labor and Employment Law Certificate Program. I also plan on taking trial advocacy courses to develop and refine the skills I'll need to be a successful trial lawyer.
Student Leadership
What made you want to get involved in these roles?
I have always been a very involved student with a strong passion for diversity and inclusion initiatives. During my final two years at Butler University, I had the privilege of being the Director of Diversity and Inclusion (DIB) under our Student Government Association. Holding that position allowed me to develop a deeper love for and understanding of my Mexican ancestry and further ignited my passion for diversity and inclusion work.
I knew going into law school that I wanted to take on leadership roles with diversity-specific organizations because people of color — especially women of color — are incredibly underrepresented in the legal profession. Currently, only 8 percent of private practice attorneys are women of color, and of the 23 percent of women that make up law firm partners, less than 3 percent are women of color. I hope to one day help change these statistics.
By being involved in these organizations, I am able to build friendships with other law students of color. Establishing these connections allows all of us to have crucial conversations on how to improve diversity in the legal profession.
What contribution do you hope to make as a student leader?
I am the type of person who shares with my peers who I truly am, where I came from, and all that I have been through to get to where I am today. It doesn't matter if someone views my background as "good" or "bad," I do this because I am a firm believer in loving and being proud of who you are. Nobody is the same. We all have different stories to tell — we all come from different places, with different backgrounds, and different life experiences.
Through conversations, I get to share with my peers the best parts of myself, and in return, my peers can share with me the best parts of themselves.  In my opinion, by sharing these different life experiences with one another, we can learn individual lessons and ultimately grow as attorneys.
I hope that as a student leader I am able to contribute to my peers' personal and individual growth as well as the understanding and appreciation of a diverse legal profession.
Beyond Law School
What are some skills or interests people might not guess about you?
Most people might not guess that I am obsessed with movies and that I am also an artist. My father and I used to always binge-watch different movies and TV shows. Some of my favorite memories as a kid involved going to midnight movie showings with my parents.
I started drawing at a very young age, and in high school, I developed a love for oil painting. I knew that I wanted to continue to pursue this passion, which prompted my decision to minor in Art+Design at Butler.
What do you do to relax outside of school?
Outside of school, I spend a lot of time with my five best friends from Chicago-Kent. We all met during the 2017 Jumpstart Program and even though we are all so similar, we are also very different.
To help de-stress, we go see $5 movies on Tuesdays, we have "Cohort" potlucks, and we try to explore different places throughout the city. Yes, law school can be stressful, but being around my friends keeps me balanced and relaxed, and has left me with some amazing memories.
I also enjoy going to my favorite taco place (Del Toros)  with two of my best friends from Loyola Law School and Northwestern Law School. Whenever we go out to eat, we're able to laugh, vent, and eat some of the best food in the city.