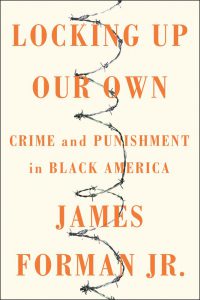 On January 17, 2018, Professor James Forman Jr. of Yale Law School visited Chicago-Kent to discuss his book "Locking Up Our Own: Crime and Punishment in Black America," which has been named one of the 10 best books of 2017 by the New York Times.
Professor Forman described how, while working as a public defender early in his career, he saw many of African-American prosecutors and judges using the same history that motivated him to become a public defender to instead justify incarceration of his clients, and he wanted to understand why.
Professor Forman said the "question of the book" is as follows:
For me, it was telling that story of the criminal system over the last 50 years through the lens of African-American prosecutors, police chiefs, judges legislators, citizen activists, everyday citizens – trying to figure out, through their voices, what was going on and how was it that at least some of them had come to think that these policies that the government, that the United States as a nation was pursuing made sense. Were they tricked? Were they coerced? What was the story?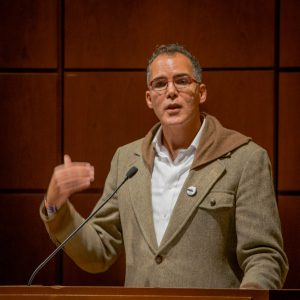 He started by describing his historical research in letters black constituents in DC wrote to their representatives about rising crime in the early '70s.
He described the wide-ranging policies newly elected local African-American leaders advocated for and how their only successful reforms were usually limited to law enforcement based on external constraints.
He posed a companion question for the audience:
Here we are 2018. What do we do about this? What do we do about the fact that we live in a country that has 5% of the world's population and 25% of its prisoners?
Professor Forman argued that one of the biggest ongoing constraints in reforming the criminal legal system is imagination—and law schools may be a part of this issue. When we focus only on existing law, it can be harder to see new solutions for ongoing problems.
Across the nation, candidates ran for public prosecutor positions in the 2016 election with a new platform of reforming the criminal justice system to reduce mass incarceration — and won. Citizens are starting to mobilize around this issue and Professor Forman encouraged everyone to get involved in local forums to bring about more change.
He encouraged anyone who wants to change the current criminal justice system to "get proximate" with inmates — to participate in programs that help reduce the isolation and stigma of the system through tutoring, mentoring, job training, restorative justice and more.
Watch his full address in the video below:
Video:
Social Media:
Our faculty and students shared some of their responses to the event on social media. You can also find Professor Forman's account included below if you would like to follow him on Twitter.
Join us tomorrow, 1/17, for a #booktalk with Prof. @JFormanJr of @YalelawSch, who will discuss "Locking Up Our Own: Crime and Punishment in Black America." Eligible for #CLE credit. Free and open to the public. RSVP at https://t.co/zygFF9PeW3. pic.twitter.com/ZPvn3tFlW6

— Chicago-Kent Law (@ChicagoKentLaw) January 17, 2018
Really excited to see @JFormanJr give a talk on his new book, "Locking Up Our Own" at @ChicagoKentLaw today!

— Cody Jacobs (@CodyJJacobs) January 17, 2018
See you later today! https://t.co/gRFiN9EgmS

— James Forman, Jr. (@jformanjr) January 17, 2018
Excited to hear from @JFormanJr at @ChicagoKentLaw about incarceration of #AfricanAmericans as part of its #MLKDay celebration pic.twitter.com/KiIliptWjj

— Tracy Treger (@tracy_treger) January 17, 2018
@JFormanJr speaking about his book fascinating book Locking Up Our Own @ChicagoKentLaw. Great event! pic.twitter.com/nDHauESRph

— Carolyn Shapiro (@cshaplaw) January 17, 2018
https://www.instagram.com/p/BeEWEaUH6VX/?taken-by=sameyer40
Photos:
You can find more photos from this event in our Flickr album