In March, Chicago-Kent's BLSA Vice President Alexis Halsell organized an event titled "Creating Change: The Importance of Social Justice Involvement" and invited four representatives from Black Lives Matter Chicago to share more about their movement's goals.
History of Black Lives Matter
Kofi Ademola gave some historical context for the Black Lives Matter movement, which was founded by Alicia Garza, Opal Tometi, and Patrisse Cullors. These three black queer women started the hashtag on social media in reaction to the verdict in the Trayvon Martin case.
The Black Lives Matter website helped build the movement when activists protesting the death of Michael Brown in Ferguson used it to start local chapters across the country.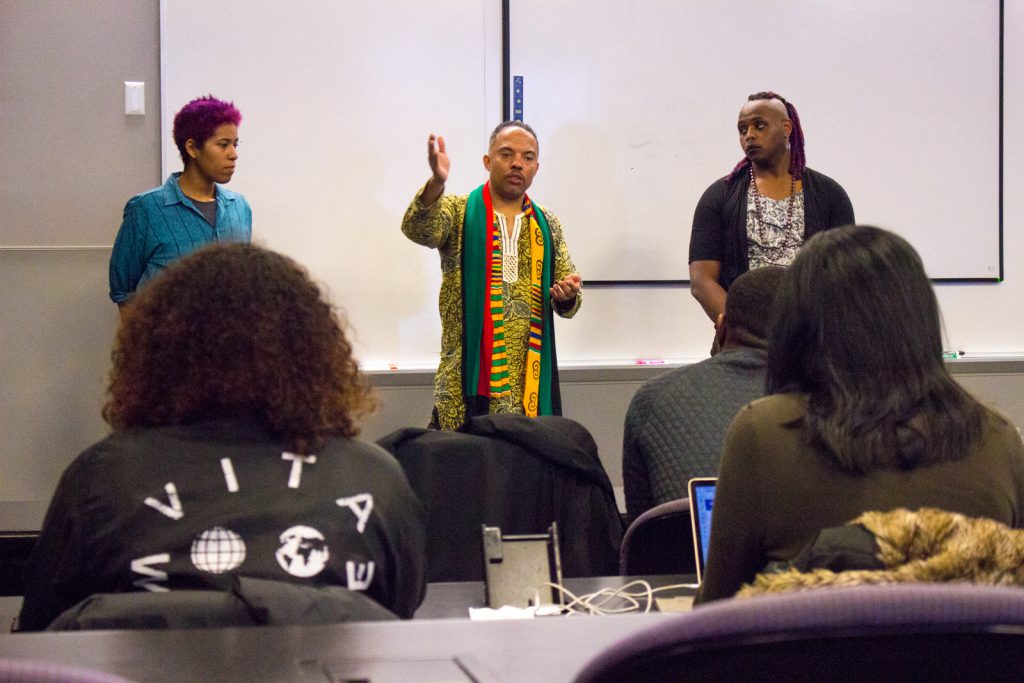 Criminal Justice Reform in Chicago
In Chicago, Kofi Ademola noted there had already been 20 police shootings in 5 years with no convictions, so the issue of police violence has always been central. He said the goal of Black Lives Matter Chicago is to decentralize power and to centralize marginalized voices and communities.
Black Lives Matter Chicago has been supported by the National Lawyers Guild local chapter serving as legal observers at protests and actions. As seen with the airport ban, more lawyers are organizing to create emergency response legal teams that can take action quickly.
When BLM activists were given outrageous bonds and charged with assault, the Chicago Community Bond Fund was organized to support them but has expanded beyond supporting activists to others who are unable to pay their fees.
The DOJ report on criminal justice abuses in Chicago has led to the NLG building cases around these issues to hopefully push for more restorative justice. This movement already had a strong history in Chicago with the Burge Reparations. But there are still 20 people in jail working their way through legal battles to seek freedom.
Another primary concern for BLM is the fraternal order of police contract, which they believe is too protective. Mr. Ademola noted John Burge is still collecting his pension even as a convicted felon.
Black Lives Matter brings an abolitionist framework to abuses like these. They want to repeal prison policies and to replace the current criminal justice system with systems that support local communities. They oppose the current systems because they believe they privilege abuse by design.
Mr. Ademola said policy can't continue to be about band-aid reforms when so much real change is needed in these systems. For instance, CPAC – Civilian Police Accountability Council – would allow police oversight to be managed by communities. Their ultimate goal is liberation, but he said it is hard to escape the indoctrination and assumptions our culture promotes.
Justice for Families
Another Black Lives Matter Chicago initiative Mr. Ademola described is Justice for Families. This group exists to support families impacted by violence. They want to let the families define what their needs are, whether that is hospital support, funerals, legal, financial, or therapy.
The need for mental health care in impacted communities is very high, but he noted resources are very low for access, cost and providers. Stigma around getting therapy makes it even more difficult. To build Brave Spaces, they want to build capacity and gather more support.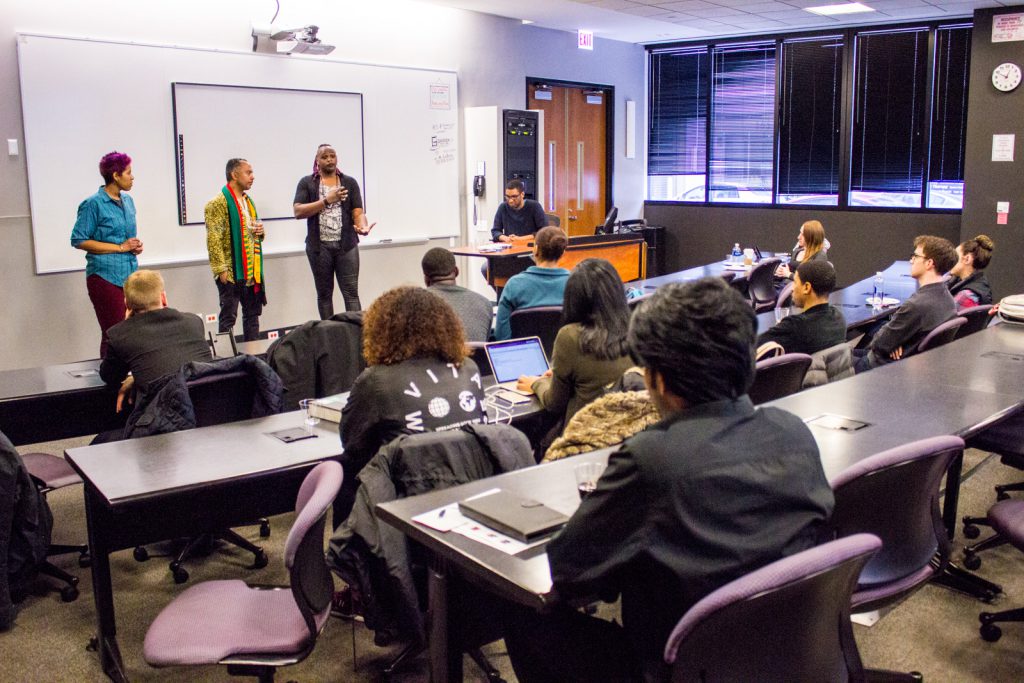 Q&A with Black Lives Matter Chicago
After each of the speakers introduced themselves and shared work they've been focusing on, the event switched to a question & answer session. Here are a few of the questions that were discussed at the meeting:
Q: Was BLM involved with the Women's March in Chicago? 
A: The organizers did reach out to BLM, to trans rights activists, and to indigenous leaders. Feminism is always evolving. It's hard to say where the women's march movement will go after the event or what the goals are, but it's important to always keep challenging power and privilege.
The May Day events coming up will be another opportunity for intersectional support.
Q: How can we address misconceptions about the Black Lives Matter movement?
A: There are chapters all over, including internationally. The goals of each chapter are very different because representation is very subjective. Spending time looking up each chapter online or through social media would be the best way to see the range of issues they address, but since they're responding to local needs & concerns, it will continue to evolve. Getting information from the source is better than relying on secondhand accounts.
Follow BLM Chicago online:
Q: How can we actively counter inaccurate narratives about Black Lives Matter Chicago?
A: Sharing the direct source information helps, but in many places people aren't exposed to these perspectives. It's especially harder in smaller, rural communities where the political agenda of divide and conquer has been very successful at using racial and class conflict narratives to increase fear and anger against BLM and other activists.
Maria Hernandez, who grew up in southern Illinois, noted that it's easier to erase people in smaller communities where harassment is endemic and support systems are much smaller. It's harder to build awareness of these issues when they're spread out geographically, but statistical research and policy sharing can be key.
Vita Cleveland emphasized the need to learn how to handle conversations with respect for one other so we could have more dialogue across our culture and relationships. She also said it may be necessary for larger chapters of BLM to find ways to show up for smaller or more rural areas to counter the division that affects them.